Tensions Rise in Kashmir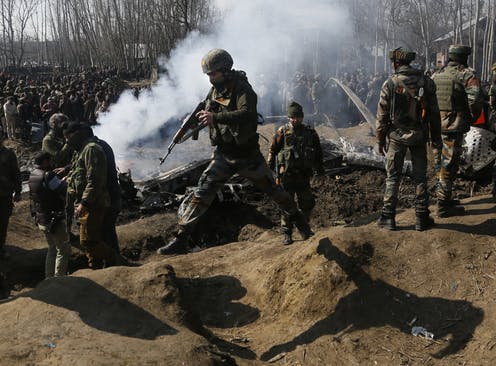 Daniel Collin Bratcher, Editor
March 5, 2019
Between a car bombing and a plane crash, relations between India and Pakistan couldn't be even more of a train wreck.
On February 14, a militant from the disputed Jammu and Kashmir region killed 40 members of the Indian Central Reserve Police Force in Pulwama in a suicide car bombing. The Pakistan-based militant group Jaish-e-Mohammed claimed responsibility for the attack; however, Pakistan's government has since condemned the attack and denied any involvement.
In response to the attack, the Indian Air Force violated the Line of Control (LOC) over the airspace of Kashmir on February 26, the first time ever since the end of the Indo-Pakistani War in 1971, to conduct "preemptive" aerial strikes against a terrorist training camp in Balakot, Pakistan, that killed "a very large number of JeM terrorists, trainers, senior commanders and groups of jihadis" according to the Indian military. The successes that the Indian Air Force claimed to have with these strikes have since been disputed by both local residents and the Pakistani military, saying that no one was killed nor was any terrorist-controlled infrastructure damaged of destroyed.
On the 26th and 27th, Pakistan and India exchanged gunfire along the LOC, with ten Indian soldiers being injured and four Pakistani civilians being killed in the shelling. On the 27th, Pakistan followed India's example and conducted airstrikes in Indian-administered Kashmir which no casualties or damage to any infrastructure having yet been reported.
Pakistan claimed on February 27 that they had shot down two Indian jets over Pakistani airspace and captured their pilots; however, India has since claimed that only one MiG-21 (the model of fighter jet that was shot down in Pakistan) had been shot down and has since demanded the release of said pilot from Pakistani custody. India has also claimed that their military has shot down a Pakistani F-16, which Pakistan has denied. Pakistan later clarified that only one Indian pilot, Abhinandan Varthaman, was captured and he has since been released by Pakistan's military to Indian custody on March 1.