Boys Soccer Ties Jeffersonville 1-1 at Home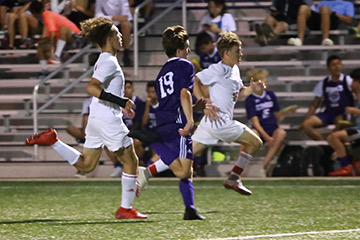 Seymour's boys soccer team took on the Jeffersonville Red Devils in their first conference game of the season. In the two teams' most recent meeting, Jeffersonville knocked the Owls out in the first round of sectionals.
The Owls dominated through much of the first half, scoring the first goal 27 minutes into the game. Sophomore winger Luke Reasoner put in a low cross that found senior Simon Akers, who calmly guided the ball past Jeffersonville goalkeeper Lex Hawkins to put the Owls up 1-0.
Less than 10 minutes later, Jeffersonville equalized. Junior midfielder Konnor Kimmel made a run through the Seymour defense and fired a shot on goal. Seymour keeper Will Smith made a brilliant stop, but an unlucky bounce off of the foot Seymour midfielder Carter Hendrix caused the ball to end up in the back of the net.
Neither team was able to take the lead in the second half, and the game ended 1-1.
The Owls are now 1-3-2 after their tie on Tuesday.
JV tied 0-0. The highlight of the game was sophomore goalkeeper William Cottrill saving a penalty in the second half to keep the score even.