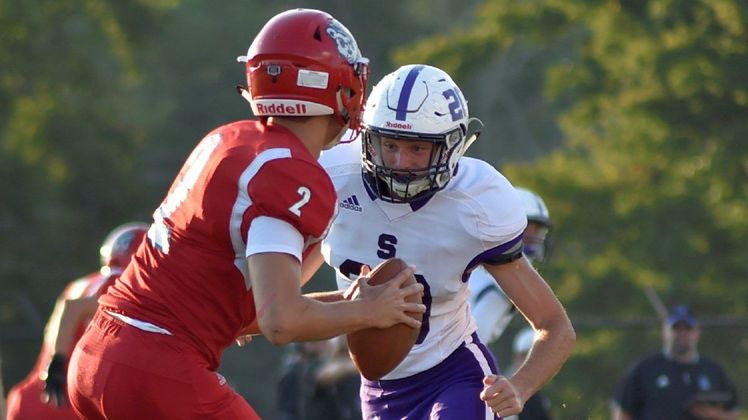 The football team took on the Cubs of Madison on the road and convincingly won 49-7. The 1st Quarter was a slug-fest for both teams, neither getting a score for the whole of the quarter.
That would soon change in the second quarter however, with the Owls landing the first strike of the game from a 17-yard touchdown run from Junior Chandler Drummond. Madison would soon answer with a touchdown of their own and the game was all evened up. On Seymour's next drive, QB Brendan Smith found receiver Ely Henderson for a 67-yard touchdown reception. The Owls were back on top 14-7. On Madison's following drive, the result was a blocked kick by Seymour. Seymour would proceed to be intercepted by the Cubs, but the defense played their part and forced a Madison punt. Once they got the ball back, Seymour went to work and Smith would find Drew Vehslage for a 22-yard touchdown. That closed the half with Seymour up 21-7.
Madison attempted an onside kick to start the half but Seymour recovered. The next play for Seymour resulted in another interception and Madison took over. After forcing them to 4th and 4, the Cubs stayed on the field to go for it. The Owls forced a turnover on downs and capitalized off the turnover and scored from a 7-yard touchdown, run in by Smith. The Cubs would have nothing going for them in their next drive and punted again, which resulted in another Seymour touchdown, this time a 3-yard run by Chandler Drummond. The Cubs got the ball back, but yet again they were forced to punt. Junior Josh Pennington took it 40 yards to the house, making the score 42-7. The Owls forced another punt, this time it resulted in a 39-yard touchdown run by Drummond. This brought the 3rd quarter to an end, Owls lead 49-7.
The 4th quarter was similar to the 1st, with no team scoring the whole 12 minutes, final score 49-7. Seymour is now 3-0 and will be taking on Jennings County at Jennings County next week.