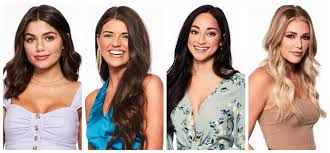 SPOILER ALERT:
Week 6
Two episodes in one week and there was more drama than ever.
Two one-on-ones kept Hannah Ann and Victoria F. safe until week 6.
The group date sent the girls filming a juicy love show which sent jealousy running through the girls. Once the dinner party started that night, Peter sent Victoria P. home, not being able to see a future with her.
A two-on-one led Tammy to snitch on Mykenna's intentions. Peter confronted Mykenna, and she explained herself and with Peter trusting her, Tammy was sent home that night.
The rose ceremony that night sent a shock to viewers as "the best kisser" Sydney got sent home, along with Mykenna.
Week 7
Monday's episode was the key to hometown dates that will happen next week. Many one-on-ones and a three-on-one sent Kelley, Peter's before show lover, home.
Madison had a one-on-one with a romantic outing type of day. Their dinner date left Peter telling her that he was falling in love with her. Madison brought up her faith and how she wants it at the center of her future relationship. The night ended with Peter commenting on stronger faith, the two becoming more happy than ever, and Peter heading to Alabama to meet Madison's family.
Natasha had a one-on-one, leaving her heading home that night. Peter realized their love and chemistry was just not as strong as the rest of the women.
Kelsey met Peter for a day of ATV rides. When lying on a hill in the countryside, they both discussed their future. This put them in a good spot for their upcoming dinner date that evening. Kelsey revealed her rocky relationship with her father, and the fact that she had not told her mom about their being in touch. The night ended with Kelsey earning a rose, and he will head to meet her family next week.
The three-on-one looks quite hectic at first; the girls all fight for those final roses. Victoria F. called Peter out about his attitude, but when it came down to it, Peter gave her a rose and she was sent back to the house. Kelley and Hannah Ann both have their pros and cons with Peter, but Hannah Ann won him over. She collected the rose and headed back to the house with Peter to celebrate with the final four.
Hometown dates…. HERE WE COME!