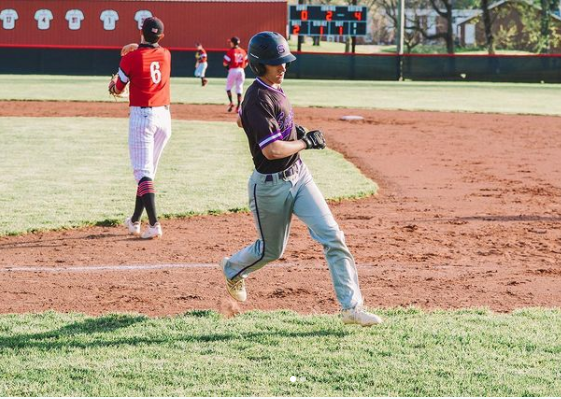 From The Tribune
Six no-hit innings by Brownstown Central senior Nathan Koch led the Braves to a decisive 8-4 home win over Seymour on Tuesday night.
After giving up four runs and five hits in the first inning, Koch's next six innings were virtually flawless. He responded to Seymour's early rally by retiring 11 consecutive and only facing 18 batters in the last six innings.
"I was throwing too high in the zone. I needed to keep it down, trust my teammates behind me and let them do the work," Koch said
Making his first start, Koch threw 27 pitches in the first inning but then never threw more than 13 in any of the remaining six.
"A pretty gutty performance from our senior," BC head coach Brandon Tormoehlen said. "(Nathan) started getting his breaking ball over, which was important. He kept them off balance the rest of the night. He's a tough kid. He's joining the Air Force, so you know he's tough. He wanted the ball tonight. For his first varsity start, it was an impressive performance."
Brownstown's defense complimented Koch's performance brilliantly, committing only two errors. The Braves turned a 6-4-3 double play in the fifth inning that all but squashed Seymour's remaining hopes.
To go along with their spectacular defensive display, Brownstown scored two runs in the second inning on a home run by designated hitter Levi Stahl, followed by a five-run third.
The third inning rally began when two consecutive batters reached base on bunts, and a throwing error by Seymour allowed second baseman Wyatt Steward to score.
BC shortstop Kiernan Tiemeyer scored on a deep sacrifice fly by Stahl. Catcher Jake Pauley then walked on four pitches to load the bases, and Cole Darlage hit a line drive into centerfield that scored two more.
With runners on first and third, Brownstown executed a double steal, which resulted in Pauley crossing the plate to give the Braves a commanding 7-4 lead.
"I think the biggest difference was we competed, all the way around," Tormoehlen said. "We felt like we hadn't put together a complete game as far as good base running, good defense, good pitching, good hitting. Tonight, it seemed like we did all of those things. We feel like if we can do all of those things, we can be tough to beat. I'm glad to see the boys were able to do that tonight."
Stahl ended with two hits and a game-high four runs batted in. First baseman Cristos McCormick also added two hits for the Braves.
Early in the game, Seymour was dominant. The Owls' first four batters got hits, including a two-run single by senior Brayden Wilson.
Starting pitcher Treyton McCormick and senior Brandon Hubbard both drove in runs, giving Seymour a 4-0 lead at the end of the first inning.
"That first inning, when things were going well for us, is what we do," Owls head coach Jeremy Richey said. "We get up there and we're aggressive early in the count. We hit some balls hard, we made some things happen on the bases. And when we get rolling, we're pretty good. Unfortunately, for whatever reason, that stopped after the first inning. This group has to find out pretty quickly how to deal with adversity, because we've seen it a couple of times this year and we do not handle it well. From the second inning on tonight, we didn't do much offensively and that's disappointing."
Treyton McCormick pitched three innings for Seymour, giving up six hits and two earned runs. Freshman Bret Perry threw three innings in relief, giving up zero earned runs and striking out two.
Tuesday's loss dropped Seymour to 3-2 on the season, while Brownstown improved to 4-1.