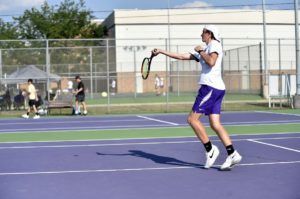 Arv Koontz/The Tribune
The young Seymour Owls Tennis team started out 3-1 in their first four games. The Birds had their first match on Monday, August 16 against Waldron, and won 5-0. The Owls started off strong with a complete blowout in an away match, with the performance of the night coming from Joe Schmidt winning his match 6-0, 6-0.
Tuesday, August 17 Seymour went against Bloomington North. The Birds lost 2-3 in a tough battle. The performance of the night came from Juniors Eli Meyer and Jack VonDielingen winning their match 6-1, 6-2. Their chemistry was unmatched that night; as they beat down on a tough match-up.
Thursday, August 19, Seymour set out to Providence and won 4-1. The performance of the night came from senior Andrew Levine coming back from losing the first set. Levine won 2-6, 6-1, 6-3. Levine brought his veteran experience and leadership this season hoping to add another Sectional Title to his belt.
Friday August 20, Seymour beat Scottsburg 4-1 at home. Hunter Heckman, Andrew Levine, Eli Meyer, Jack VonDielingen, Reuben Kruse, and Parker Thompson all won their matches in style. Sadly, Joe Schmidt could not come out with the win on Friday but fought hard enough to go three full sets in 3 Singles.
The boys are hoping to win Sectionals and compete in Regional this year with a relatively young team.