Butter Pecan Turtle Cookies Recipe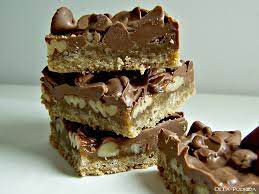 With the holiday season upon us, baking becomes a big deal! What kind of baked goods do I make for Christmas? New Years? My grandmother has always made delicious meals and deserts over my lifetime, but one of my favorites has to be her cookies. So, I present Butter Pecan Turtle Cookies from the kitchen of my grandmother!
Ingredients:
For the crust:
2 cups flour

1 cup brown sugar

½ cup butter, softened
For the caramel layer:
⅔ cup butter

½ cup brown sugar

1 cup pecans

1 cup milk chocolate chips
Directions:
Preheat the oven to 350°F.

In a bowl, combine crust ingredients. Mix at medium speed for 2-3 minutes.

Pat firmly into an ungreased 13x9x2 pan. Sprinkle pecans evenly over the crust.

Prepare caramel layer; pour evenly over pecans and crust. 

Bake near the center of the oven for 18-22 minutes or until bubbly.

Remove from over. Sprinkle with chocolate chips. Allow to melt slightly (2-3 minutes). Swirl chips as they melt. 

Cool completely and serve!
Caramel Layer Instructions:
In a 1 quart saucepan, combine brown sugar and butter. Cook over medium heat, stirring constantly until the entire surface of the mixture begins to boil. Boil ½ – 1 minute stirring constantly. 
Servings: 3-4 dozen