Cowboy Cookies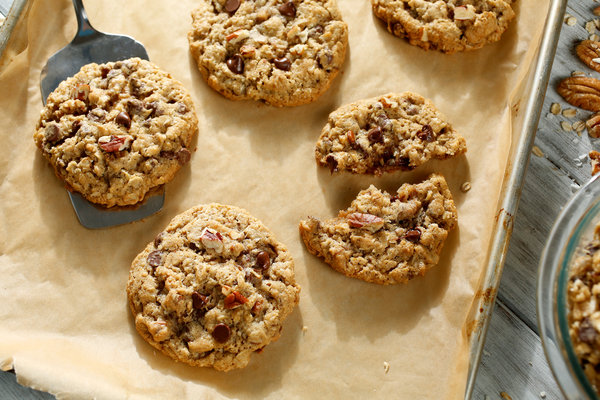 Yield 3 to 3 ½ dozen cookies
Time 35 minutes
Ingredients
3 Cups All-purpose Flour
1 Tablespoons Baking Powder
1 Tablespoons Baking Soda
1 Tablespoons Ground Cinnamon
1 Teaspoons Salt
1 ½ Cups (3 sticks) Butter (Room Temperature)
1 ½ Cups Granulated Sugar
1 ½ Cups Packed Light-brown Sugar
3 Eggs
1 Tablespoon Vanilla
3 Cups Semisweet Chocolate Chips
3 Cups Old-fashioned Rolled Oats
2 Cups Unsweetened Flake Coconut
2 Cups Chopped Pecans (8 ounces)
Preparation
Heat oven to 350 degrees.

Mix flour, baking powder, baking soda, cinnamon and salt in bowl.

In a very large bowl, beat butter with an electric mixer at medium speed until smooth and creamy. Gradually beat in sugars, and combine thoroughly.

Add eggs one at a time, beating after each. Beat in vanilla.

Stir in flour mixture until just combined. Stir in chocolate chips, oats, coconut and pecans.

For each cookie, drop ¼ cup dough onto a non-greased baking sheets, spacing 3 inches apart.

Bake for 15 to 17 minutes, until edges are lightly browned. Rotate sheets halfway through and remove cookies from rack to cool.