Getting Back to Normal: Oktoberfest Back After 2020 Cancellation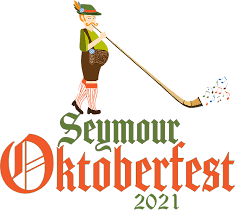 Seymour's favorite annual event was back for its 48th go-around after being canceled in 2020 due to COVID-19 restrictions. Wednesday night was the first night of the 4 day long festival. Visitors were held to a limited experience however, with non-profit booths and the beer garden being the only things open and available to the public.
Thursday is when the event really kicked into gear. The day started early with a baking contest at 10 a.m. before visitors got the true Oktoberfest experience when everyone's favorites and classics like Sati Babi and Mr. Beefy's among others opened. Rides, the flea market, and booths offering special activities and homemade crafts also opened for the first time. The rest of the day was filled with musical and roving performances from the likes of the SHS band, the Spoon Man, Sky's the Limit Stilt Walking, and others providing entertainment to spectators enjoying their delicious first-day food.
Friday featured much of the same as Thursday, this time with more musical acts and the return of Spoon Man and Sky's the Limit Stilt Walking. 
Saturday, the Fest's final day, was a day jam packed full of events. The day started early with the annual Oktoberfest 5K and baby contest. Booths opened at 11 and the day followed a typical Oktoberfest itinerary until it was time for one of Oktoberfest's most beloved events, the parade. This year's parade was noticeably shorter than prior years, but it was still filled with creative float designs and provided tons of spectators with a good show. The evening featured events such as the hot air balloon race, a brat eating contest, and a talent show. The night went on as normal before finally closing at 11 p.m. and packing it up for the year. The Oktoberfest will be back in town Sep. 29 – Oct. 1, 2022.