Ratatouille Recipe
The dish that gives the name of the movie Ratatouille its name is a colorful summertime vegetable based dish, Ratatouille. This is a simple and healthy dish you can make.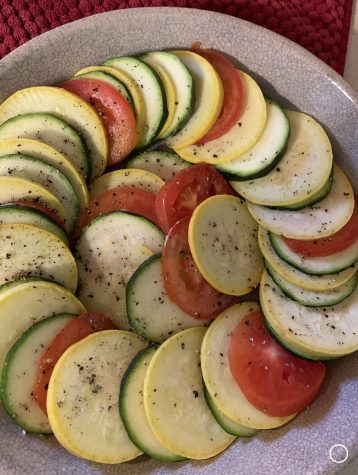 Ingredients
4 tbsp olive oil
4 garlic cloves (minced)
1/2 small onion (chopped)
14 oz crushed tomatoes
2 tsp dried basil
1/2 tsp dried parsley
1 small eggplant (sliced in thin circles)
2 small zucchini (sliced in thin circles)
3 Roma tomatoes (sliced in thin circles)
1 pinch of salt
Black pepper
Preheat your oven to 375F. In a large pan, heat 2 tablespoons of olive oil at medium heat. Add the garlic and garlic and cook until tender. Next add the crushed tomatoes and seasonings. Cook until the sauce is thick. Pour a thick layer of the sauce into the bottom of a round dish. Place your sliced vegetables in a pattern all around the pan. Cover the vegetables with the remaining olive oil and place foil over the dish. Bake for 30 minutes or until vegetables are tender.
Cool it and enjoy!