The Office: Kevin's Chili Recipe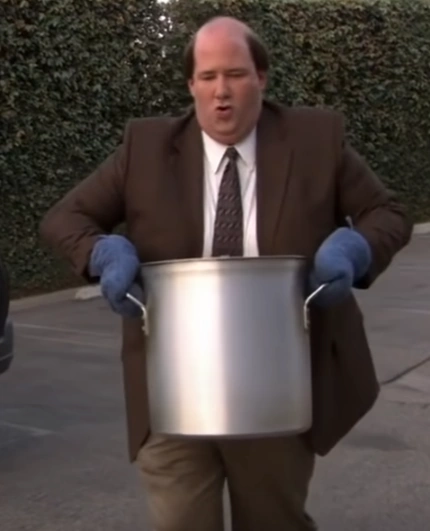 When thinking about iconic moments from the office, Kevin dropping the giant pot of Chili all onto the carpet is near the top of the list. Although, the fictional characters never got to taste it, you can with this recipe.
Ingredients:
4 dried ancho chilies
2 Tbs neutral oil
3 lbs group beef
2 medium yellow onions. Finely chopped
6 cloves garlic
1 large jalapeno, finely chopped
1 Tbs dried oregano
2 tsp ground cumin
1/4 tsp cayenne pepper
2 Tbs tomato paste
3 cans of pinto beans, drained and rinsed
3 cups beef stock
2 1/2 cups chopped ripe tomatoes
2 Tbs kosher salt
Chopped scallions, shredded Jack cheese and sour cream (for toppings)
Directions:
Combine beef and onion in a large saucepan over medium heat.
Saute until meat and onion are browned (undercook the onions)
Stir in tomatoes, tomato sauce, toasted ancho chilis, and water.
Season with chili powder, garlic powder, salt, and ground black pepper to taste.
Boil on a low-heat
Simmer for 15 minutes while covered
Add toppings of your choice
Enjoy!
(Recipe borrowed from nerdist.com)