Donald Trump Indicted with 34 felonies and faced trial April 11th in a Manhattan Courtroom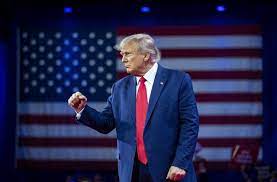 Donald Trump appeared in a criminal court last tuesday in New York City and faced 34 counts of falsifying business records in the first degree, a low-level felony in New York State. This historic arrest marks the first time a former U.S. President has faced criminal charges.
The district attorney's investigation was centered around hush money payments made to two women who claimed to have had affairs with Trump before the 2016 election. Trump's former lawyer, Michael Cohen, claimed he paid Stormy Daniels $130,000 dollars in the last days of the campaign at the direction of Trump. Trump has denied these affairs and any hush money payments, but acknowledged paying Cohen back through payments labeled as "legal expenses." In addition the prosecutors questioned several witnesses about claims regarding additional money paid to Karen McDougal. NBC claims that anonymous sources have said that Cohen has made a guilty plea acknowledging his involvement in both payments. According to Fox News' Lorraine Taylor, the prosecutors will most likely claim that the payments were unauthorized and unlawful contributions to the Trump campaign.
Last month the former President asked his supporters to protest in the event of his arrest and warned of violence and destruction if he was to be charged criminally. In addition to this, Trump suggested that District Attorney Alvin Bragg, whom Trump accused of leaking details regarding his charges to the press, to "do the honorable thing and, as District attorney, INDICT HIMSELF." According to NBC's Dareh Gregorian and Adam Reiss, Mayor Eric Adams of New York told press that the city is prepared for potential unrest caused by Trump's inflammatory statements. "I think we're on the eve of destruction. It's just like surreal to me", Trump attorney Joe Tacopina said Monday on Fox News. Trump continues to deny that he has violated the law in any way, referring to the investigation against him as a "witch hunt," and according to NBC, accusing Bragg of being racist.
The potential impact of Trump's arrest goes beyond just the legal consequences he may face. It also raises questions about the role of a president in a democratic society, and the extent to which they should be held accountable for their actions both during and after their time in office. Some have argued that the very fact that a former president could be arrested sends a powerful message about the importance of upholding the rule of law, and that it highlights the need for transparency and accountability in government. Others, however, have expressed concern that the charges are simply being made to discredit Trump and pose a threat to the freedom of speech for future presidents.