Billie Creek Village: history & hauntings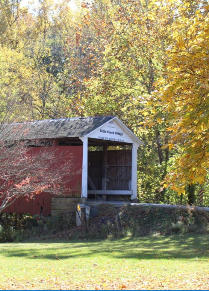 Rockville, Indiana is well known for being home to the haunted Indiana State Sanitorium, but it also has some other local haunts that are just as hair-raising. Including over 30 historical sights and attractions, Billie Creek Village is frequented by both paranormal investigators and history buffs alike.
Historical "Goldmine"
On the site, the Beeson- DePlanty cabin is one of the most interesting attractions in this well-preserved village. Built in the early 1800s, the cabin still stands today made solely of poplar wood. An interesting fact to note is that the cabin has absolutely no nails holding it together at all. Made of similar material, there are three covered bridges in the village. These include Billie Creek Bridge, Leatherwood Station Bridge, and Beeson Bridge. Other popular attractions include; a general store, a doctor's office, a print shop, a church, a school house, and many more. Interestingly enough,  is also home to a mine called White Star Mine as well.
Hauntings
According to Ghost Hunt USA, Billie Creek Village is one of the most actively haunted destinations in the state of Indiana. The blog states, "Paranormal activity reported at this location includes apparitions, shadows, footsteps, and voices." With the historical aspect of this village, it is so surprise that this location is swarming with rumors of hauntings and mysterious happenings. The village has tour scheduling programs on its website, linked  here.  
Sources:
https://www.billiecreek.com/pages/our-stores/