Taylor Swift announces ¨Speak Now Taylor´s Version¨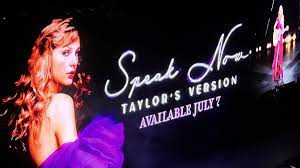 For the past few years, Taylor Swift has remade some of her most popular albums and rerecorded them into her own more modern-sounding mix. Taylor labels these as ¨Taylor´s Version,¨ and they represent Swift gaining ownership of her own music, opposed to the beginning of her career. Previously, the ownership and copyright labels of her first six albums were owned by a company called Big Machine, and later transferred to Braun. Hardcore fans tend to only listen to this version, feeling it is more supportive of Swift and career.
At the beginning of the Era´s Tour, fans speculated that Speak Now Taylor´s Version, could be in the works, but they were clueless as to when. Many fans speculated October, due to that being the original release of the album in 2010. However, these fans may get more of what they asked for and even sooner than they asked for it. On May 5th, in her concert in Nashville, also Swift´s hometown, she announced that this album was on the way, available July 7th, 2023. Fans and other celebs were buzzing about the news in the following days, with a majority pleased and some even surprised. Not only will all the songs of the album be rerecorded, but Swift also announced another six unreleased tracks will be included. The names of these songs have not been released yet, but fans will be on the lookout through the next few weeks.
Swifties around the world anticipate this new and upcoming release; however, they will have to wait until July 7th!