Vocalists take the stage at Brooklyn Pizza's Harmony Park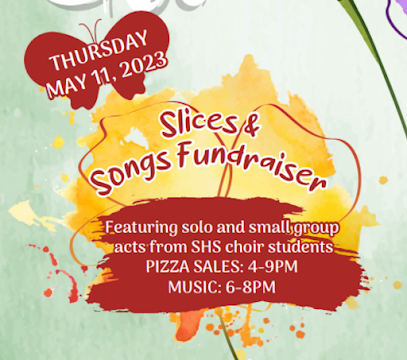 Slices and Songs is an annual event by the Seymour High School choral program. This fundraiser event makes money for the SHS choir program and Brooklyn Pizza. Slices and Songs will be tonight from 4-8 for pizza sales and 6-8 for specialty acts. It will be held at Harmony Park which is right next door to Brooklyn Pizza. The event is free but donations are appreciated.
The students have been waiting for this event all year long to perform their favorite pop songs, which usually wouldn't be preferred for a normal concert. They have been working hard to perfect their songs and parts for their many different performances. Tonight's playlist includes the following:
Emma Umgelder- "Arcade"
Brianna Gomez- "Go Easy On Me"
Taylee Thompson- "Can't Help Falling in Love"
Dezi Klakamp- "A Million Dreams"
Yuilemy Ruiz- "Viva La Vida"
Jillian Nichols- "I Believe"
Cam Wheeler and Anna Marks- "Dancing On My Own"
Kinsley Folsom- "Bound to You"
Hannah Whitehead- "Monsters"
Isabel Maschino-"All I Want and Fix You"
Joel Stevens and Evah Synder- TBA
Evah Snyder- "Harvest Moon"
Kaelin Grube and Evah Snyder- "Exile"
Kaelin Grube- "Only Exception" and "Nellie"
Dametreous Collins and Kaelin Grube- "Best Part"
Alexis Stuckwisch- "More Hearts Than Mine"
Leonel Jimenez and Alexis Stuckwisch- "Mindfields"
Leonel Jimenez and Katie Cottrill- "Until I Found You"
Leonel Jimenez- "In Your Eyes"
Kelly Beavers and Trinity Wilde- "Down to the River"
Siana Bruce- "Enchanted"
Treble Chamber Choir- "Bring Me A Little Water, Silvy"
Come out tonight at 6 to support the choir program and enjoy your favorite food from Brooklyn Pizza.