Bill Martin, Piano Man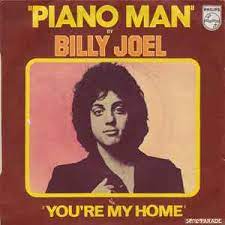 One of the most iconic and meaningful songs of all time, Billy Joel´s ¨Piano Man.¨ The song follows the story of a young man at a local bar and it looks at a few of the regulars at the bar and their stories, but where did all these lyrics come from? As it turns out, the song is about Billy Joel himself, and the regulars, were real people with real stories.
Before this hit, Billy Joel, who was not incredibly known yet, worked as a piano-lounge singer for about six months from 1972-73. He worked under the name Bill Martin, so that the people who did know him didn´t recognize him.  During this time, New York City was the mainland in the music industry. Joel had been working in New York, but quickly left when he realized the record he had signed was not a very good one. While on his getaway, he hired lawyers from Colombia Records to assure he would get out of the deal. He went out to Los Angeles, to the Executive Room Bar, where he became the ¨Piano Man.¨ This was just a small gig to help Joel and his wife at the time pay the rent, but a meaningful experience nonetheless. As said before, Joel mentions the names of many different people, John and Paul just to name a few. John was the bartender who worked during all of his shifts, and Paul was a regular at the bar who worked as a novelist and as Joel says, was ¨working on the next Great American novel.¨
The reception from the public to the release of the song in 1974 was astronomical and estasblished him as a star. With the great reception it had, it was actually almost kept in the vault. Joel thought that the unknown hit at the time had no rhythm, and was a clump of random words thrown together. Unbeknownst to him, this would come to be one of the greatest songs of all time. Even to this day, ¨Piano Man,¨ the story of Bill Martin and all the friends he had around him, can bring a tear to your eye. It´s soft spoken words, slow melodic piano notes, and harmonic riffs are some of the most recognizeable in music. The song was even chosen by the Library of Congress National Recording Registry in 2015, for being known as ¨culturally or historically significant.¨ Bill Martin and his story will live on for a very long time, as shown just in recent years.