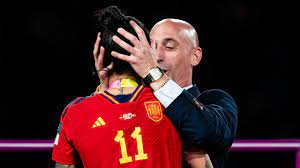 After a magical championship win for the Spanish women's soccer team, you would think the air would be filled with happiness and joy. However, the following moments of the win would be short-lived for star player, Jennifer Hermoso, after the stunning actions of her coach.
The highly anticipated game played on August 20th, had fans filling the entirety of the stands. The win, the joy, and the excitement of the players and fans were all cut off when Spain's soccer chief, Luis Rubiales, forcefully kissed star player, Jennifer Hermoso.
After being caught on camera forcibly kissing a player, Luis Rubiales has been faced with criticism from around the world. Along with being scolded for grabbing his crotch in a victory gesture while near Spain's Queen Letizia and her teenage daughter, Princess Sofia, in the presidential box.
The 46-year-old, Rubiales, was suspended as Spanish FA president for 90 days by FIFA on August 27th, after he refused to step down from his role. The committee of regional presidents in charge of the RFEF, led by Pedra Rocha, enlightened Vilda of the decision to fire Rubiales. Shortly after Vilda was informed, the RFEF issued a statement apologizing for the "totally unacceptable behavior" by Rubiales and saying it is planning to move forward with disciplinary measures against him.
Spain's top criminal court prosecutors said the controversial kiss could be considered sexual assault since the action was done without Jennifer Hermoso's consent. In an Instagram video, posted shortly after the event, Hermsoso was found saying, "I didn't like it, but what can I do?"
Following the incident, the coach of Spain's world champion women's soccer team, Jorge Vilda, told Spanish sports outlet, La Marca, the outrage over the kiss is "real nonsense." Vilda was seen clapping along with many other men when Rubiales addressed the incident in a speech, stating "I will not resign."
Less than a year ago in a crisis, Vilda's job was put in jeopardy, causing fifteen players to step away from the national team for their mental health. Demanding a more professional environment, only three of the fifteen returned to the team that won the World Cup. A letter was made complaining about Vilda by the players who left the team. During the duration of all of this, Vilda was heavily backed by Rubiales.
The situation and dilemma for the team is still ongoing and under investigation. Many of the players and administration of the league are against Rubiales and his return to women´s soccer, however, there are still many others who back him up are anxiously await his return.