Do you dare to visit Kramps Haunts?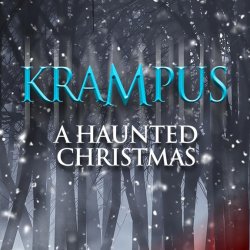 Grace Beach, Staff Editor
December 18, 2017
Hang on for a minute...we're trying to find some more stories you might like.
December 8th and 9th were Fear Fair's annual Krampus haunts at the Fear Fair location in Freeman Field. For $25, people filed into the creepy Christmas haunt, encountering elves, Santa, and Krampus himself. Gremlins and goblins greeted thrill-seekers with grimacing grins and tattered elf costumes.
The Christmas haunt was very similar to the regular Halloween haunt with different characters and altered decorations. "It's the same place, we just changed decorations and costumes and makeup," said actress Mikela Disque. It opened with the shaky, plummeting elevator and dives straight into the apocalyptic world with flashing lights and a motion sensor fake machine gun. The rest of the attempted Christmas apocalyptic world was very similar to the Halloween haunt with very few small changes made. As always, the hallways were lined with small air shoots, hitting people in the legs and stomach with icy air.
After the Christmas-apocalypse, the traditional witch scene came next. Up the stairs where the virgin sacrifice calls out for her husband Charles during the Halloween haunt, children waited, shouting warnings about Krampus and begging for help while an elf threatened to "take you too." Down the stairs, Jack Frost was waiting. Decked out in glowing icicles, Frost walked haunters through the section typically run by the voodoo shaman or the witch doctor.  
In the swamp, Santa took a turn for creepy with some very strangely asked questions andcomments that sent many groups laughing into the crypts where they encountered children running around warning the thrill seekers about Krampus while ghouls and ghosts whined about how rude Krampus was. An ice queen kept her victims in the crypts, along with all of the other frozen statues. In the plague village, elves ran rampant, terrorizing children and sending haunters nearly running to Krampus, who was waiting around the corner to kidnap unsuspecting victims from their groups.
"We're going to be coming back every year from now on," said one attendee. "Definitely worth the $25." Many scare-hunters felt the same, and mentioned coming back for the Valentine's Day exhibit in February, called Valentine X. No details have been released yet, but will be in coming months.