Migos Culture 2 Album Review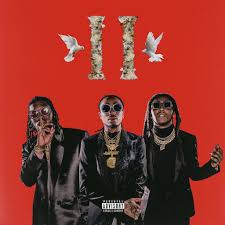 Atlanta rap trio Migos dropped their third studio album 'Culture II' in January, 2018.  The album is a sequel to their LP 'Culture' which dropped in January of 2017.  The album's track list is 24 songs long and features many mainstream artists right now: Drake, Cardi B, Post Malone, Travis Scott, 21 Savage, and more.  The album is 1 hour and 45 minutes long.  The album cover consists of the 3 members side by side, much like their No Label II album cover.
The album consists mainly of trap beats with the 3 trading bars over them.  The songs lack a lot of substance but that's not typically what a Migos fan is looking for.  The lyrics are not awful, but they are nowhere near good.  Their rhyme schemes are well planned but at times the lyrics get a little repetitive.  They let you know many times about all of the chains and jewelry they own, even having songs like "Too Much Jewelry" and "Emoji a Chain" dedicated to that subject.
Overall the album as a whole is not bad, but there are some major flaws within.  The biggest problem with the album is that it is just way too long.  There is no reason this album should be 24 songs and 1 hour and 45 minutes in length.  They lack the story telling and lyricism to make an album that long be interesting.  'Culture' was only 13 songs and 58 minutes long and a way better album overall.  There were a lot of tracks in 'Culture II' that should have been shortened in length or just scrapped altogether.  They did not have near as many banger tracks on the new album as they have had on their past projects.  This album seemed very rushed and a way to capitalize on streaming sales.
 Another major flaw that could have easily been fixed is the overuse of  Quavo.  He is by far the worst member on this album.  His auto tuned voice gets annoying after a while and his lyrics are super repetitive.  His hooks sound very boring and sometimes even ruin a track.  The song "Walk It Talk It" (feat. Drake)  has amazing verses from the other two members and Drake but is difficult to listen to because of Quavo's terrible hook where he repeats the line "Walk it like I talk it" 80 times.  To give you something to compare that to, Lil Pump, considered the most repetitive artist today, says "Gucci Gang" 54 times on his hit song with that title.  Quavo adds nothing to most of the tracks except his boring voice and terrible flow, yet he is featured on the album way more than the other two members.
One good thing about the album is Takeoff.  Often mocked and considered the worst member, Takeoff definitely shines on the album and is no doubt the MVP.  His flow is absolutely crazy and makes the tracks way better.  I would have loved for him to be featured more on the tracks.  He is known for his deep voice and staccato delivery which he executes very well here.  He even sings on the track "Gang Gang" which is very uncommon for him, and it sounds amazing.  His voice sounds so good with the angelic hums and the bouncy 808's in the background.  The 3rd member Offset does well with all of his verses, but he doesn't shine quite like Takeoff on this album. 
About the Writer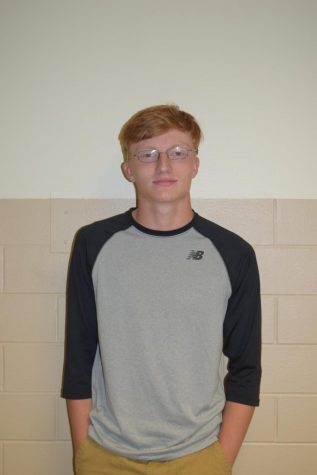 Brandon Terrell, Sports Editor
I am a Senior at SHS, and I play tennis. I go by BT. This is my second year in Newspaper. And I like to write about any and all Seymour High School Sports....