Seymour defeats New Albany with a walk off hit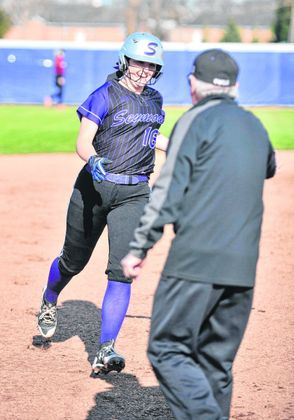 The Seymour Lady Owls and the New Albany Bulldogs battled it out on Tuesday night, April 17 in Seymour.
In the first inning, Senior Tori Snook hit a double, and she later scored off a Rachel Kaufman sacrifice to right field.
They added to their lead in the second inning when Sophomore Carlee Robinson hit a solo home run to center field. The Owls led 2-0.
The Bulldogs scored four runs in the top of the fifth, when they had two base runners on, and scored one off an error, and the second off a fielders choice. After another error, and an RBI single from New Albany, the Owls were down 2-4.
With two runners on in the sixth, Robinson brought a run in with an RBI hit. The score was now 3-4 heading into the last inning.
The Bulldogs didn't score in the top half of the seventh, and now it was all up to the Owls.
In the bottom of the seventh, the Owls tied the game up at four, with Freshman Grace Meyer at the plate, and had a chance to win the game. She hit a single to center field which was good enough to bring in the runner from third and win the game for the Owls.
The Owls play Thursday at Columbus East for their first road game of the season.