The Family Hidden Beneath the Pads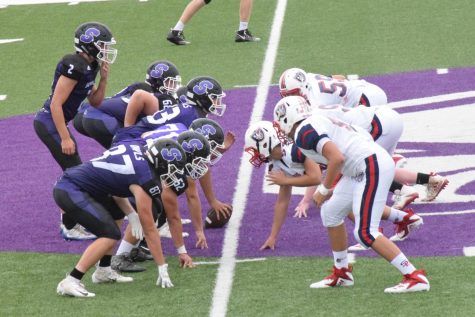 When interviewing these football players, I got a sense of how much football truly means to them. I got the honor of interviewing one sophomore, two juniors, one senior, and a friend of mine was kind enough to interview a freshman and send me the answers. These people include Drew Schroeder who goes by Texas, sophomore, Brayden Barker and Evan Vehslage, juniors, Grant Ritchison, senior, and the freshman whose response was sent to me was Cam Klakamp. A sweet thank you to all these boys for taking the time and answering my questions.
When asked how football is going Cam answered with "Football is going good; we've been working hard. The practices are kinda tough but we learn a lot as freshmen about the plays and stuff, and hopefully it pays off this season."
Drew thinks this season will go very well. "Ever since BD camp, our team has a lot of toughness. We have this will power that we use to go against the best."
During my interview with all the players and even some of the coaches stated that they believe they will be undefeated. "We don't expect anything less," Drew said when I asked why he believes this.
I had two answers stand out to me when I asked about teamwork. Grant's was one of them. "I learned that the team is only as strong as its weakest player." Cam also had a very good answer. "In football, teamwork is everything. In football, unlike most sports, everyone has a job and if you don't do your job, you're letting your teammates down. But with football, we are all a family and if you don't do your job your teammates will back you up." I think one thing for sure, those coaches sure are teaching the boys what a real team is.
Most of the players have lucky charms or rituals, which I thought was neat. Cam listens to music to get pumped. Drew has his headband.  Brayden eats Swedish fish. Grant has a bracelet with his girlfriend's name on it. All of these while Evan, has no lucky charm or ritual. I guess he doesn't need luck; with the power of his team, he can win without it.
During all these questions, I could tell the boys were thinking for the answer that meant the most to them. I truly wish you all could have been there with me while I watched these boys smile, thinking back on all the memories they have with each other. No, I don't know what they were thinking, but I could tell they were happy with their football experience. Some of the football players I didn't interview told me that this isn't a team. It's a family. The power and honesty in their voice was all I needed to know that our football family is one to last.