SHS Honors 2018 Hall of Fame Recipients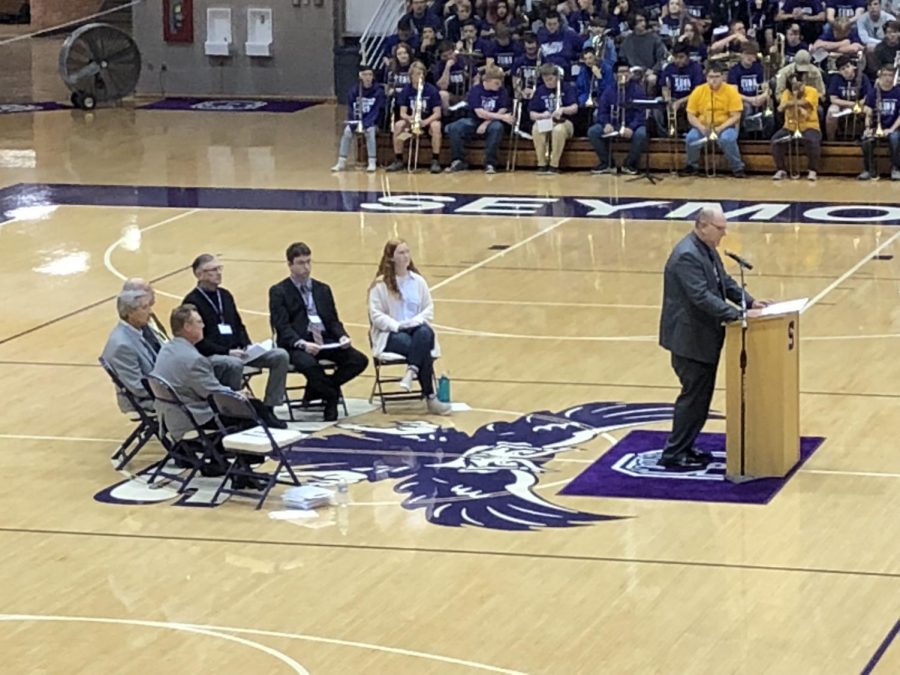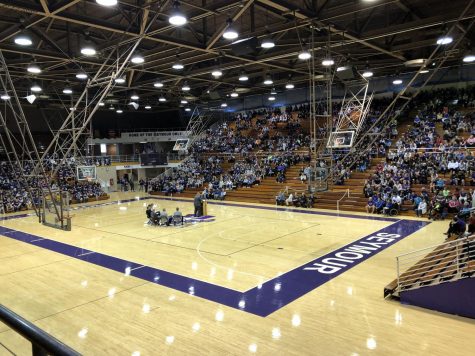 On the Friday of the big homecoming game, students and staff of Seymour High School got to witness the speeches of the Wall of Fame recipients of 2018. This year's Wall of Fame recipients are Bradley Ault, Brian Hunterman, Roger Pardieck, Dr. David Stout, and James Thompson. All of these men have different backgrounds and different professions, but they all have achieved so much with help from their education at this high school.
Bradley Ault graduated from Seymour High School in 1979. He received his Ph.D from the Program in Classical Archaeology at IU Bloomington. He also received his B.A. and M.A. in Classical Archaeology as well as a M.A. in art history at IU Bloomington as well. He is currently an Associate Professor and Chair of the Department of Classics at the University at Buffalo. He is also a specialist in archaeology and art of ancient Graeco-Roman world. Greek archaeology is his favorite though. He has been awarded citizenship by the Municipality of Hermoinida in the Arigold of Greece, through his contributions of promoting regional history of Halieis. He currently lives in Buffalo, New York with his family. He still has strong ties with his southern Indiana and Seymour.
Brian Hunterman is a 1973 graduate of the high school. He graduated from IU Bloomington with a Bachelor of Arts degree in Radio and Television, with a business minor. After graduation from IU, he got a job with the Richmond Braves where he was involved in minor league baseball operations. After Virginia, he accepted a job with the Cincinnati Reds. He became really involved with the WLWT. After that, he created his own company, Sports and Special Events Productions. In 1996, Fox Sports Ohio reached out to Brian and asked him to be assistant producer, and later director, for the Reds Telecasts. He gladly accepted. He has received several regional Emmy awards. He is happily married and has 3 children. He currently lives in Cincinnati, Ohio.
A 1955 graduate, Roger Pardieck, is a practicing trial lawyer. He cares deeply about the purpose of civil justice and has practiced the true meaning of civil justice for over 50 years. He was the first of his family to graduate college. He attended IU, then International Graduate School in Stockholm, Sweden with a degree in Economics. Then, received his law degree from the IU School of Law. In 1985, he opened his own law office. He has faced several corporate cases and won. He has won cases to help protect Americans and helped make the world a little safer. He was Indiana Trial Lawyer of the Year in 1996 and 2010. He received Indiana Trial Lawyers' Lifetime Achievement Award in 2001. He has three children. He continues to practice law at his own law firm in Seymour.
Dr. David Stout graduated from Seymour High School in 1969. He attended Wabash and then transferred to Western Kentucky University where he graduated with a Bachelor degree in Biology and chemistry. He then went to the IU School of Medicine. He completed his residency in Family Medicine at St. Vincent Hospital in Indianapolis. He has been a practicing physician, in Seymour, since 1981. In 2004, he traveled to Haiti to do mission work. He has continued to do that, and he says it's a wonderful experience. He is happily married, and he has two children and six grandchildren.
James Thompson was a 1940 graduate. He graduated from Purdue in 1943, then he joined the military. He joined the artillery division, and he was a liaison pilot. He was honorably discharged, but then called to service, again, during Korean War. After the war, he worked for his father at the Thompson Dairy Company. In 1962, he becomes the president of Thompson Dairy Company. He served on the Board of Directors of Indiana Dairy products and the International Association of Ice Cream Manufacturers. Thompson flew frequently to D.C. to meet with the U.S. Secretary of Agriculture. He is considered "one great guy- one who comes along only once in a while". He was very involved in the town, and he was always giving back to the community. He brought ice cream to the Fire Department during the Holidays. Him and a few other men, the R.O.M.E.O.'s- Real Old Men Eating Out, helped keep Betty's Townhouse Cafe to remain open, and he was usually found there. He passed away in 2007. He was married and three children and three grandchildren.
It was an honor to listen to these accomplished men. Hopefully, the students of Seymour High School will take their words to heart, and maybe one day, they'll be on the Wall of Fame as well.
About the Writer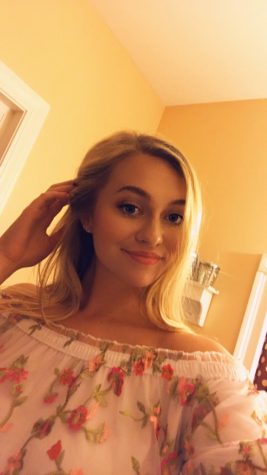 Chloe Shepherd, Staff Writer
Hi! My name is Chloe Shepherd. I am a junior. I like fashion, makeup, and movies. This is my first year on the newspaper staff.