New Batting Facility in Seymour Helping Local Kids Improve Baseball Skills Year Round
On Friday October 26th, the "Blu Crew" baseball team had their first practice inside of the new baseball-hitting facility in Seymour, Indiana. One of the players asked his teammate, "Do you like practicing outside, or in here better? (sic)" To which the young 8-year-old teammate replied, "Inside is so much better; it's too cold outside." Luis Munoz, Co-Owner of the facility, said he was very inspired to create this opportunity for the younger kids, since he would have to travel all the way to Indianapolis when he was younger to train for baseball during the off-season.
Luis played baseball for four years at Seymour High School, and his father Jorge is now an assistant coach under Coach Jeremy Richey. Baseball runs in his blood, and he said it plays a major role in his life. He says, "most kids from Seymour are sucked into basketball and football because they have the ability to practice year round." But now that he has the opportunity to give the kids a place to train during the off-season, he hopes more kids will play baseball instead of fading away from the sport.
The facility will be open for yearly memberships and for his travel team practices. It will be open for all ages, from tee-ball to professional baseball. Also, it will be open to be rented out for birthday parties or any other non-baseball related activities. When it is finished, the facility will be open to the public. You can contact Luis Munoz at 812-225-1847 or [email protected] for more information.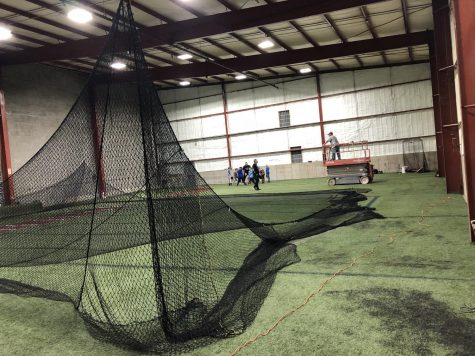 They started working on the facility in July, and are just now finishing things up. Luis told The Owl that he hopes to be finished by the end of this week. During the time that this article was being written, the nets for the batting cages were not done, as they were hooking everything up. He also said that he, his partner T.J. Black, and his dad have been putting in countless hours working on making the facility look as nice as possible.