Movie Review: Dumplin'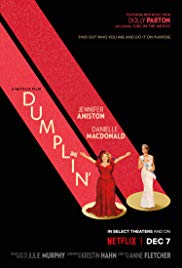 Netflix's original movie, Dumplin', came out on December 7. The movie is based on the book of the same title. The book was written by young adult writer, Julie Murphy. The movie goes along with the same plot of the book.
The movie is based on the life of a teenager, Willowdean Dickson, who is played by Danielle Macdonald. Willowdean grows up in a small-town in Texas. Her mom, Rosie Dickson who is played by Jennifer Aniston, is in charge of a local beauty pageant, Miss Teen Bluebonnet Pageant, which she won when she was a teenager. Willowdean was actually a lot closer to her Aunt Lucy. Aunt Lucy was a bigger woman, and she loved Dolly Parton. Willowdean took after her aunt with her size and her love for Dolly. Her aunt sadly passes away before the events of the movie. The movie's action starts when the time of the pageant rolls around. Willowdean's mom is obsessed with the pageant which upsets Willowdean, who is called "Dumplin'" by her mother. Willowdean feels like her mom is not happy with her because she is not "beauty queen" material because of her size.
Willowdean's mom decides to start going through Aunt Lucy's belongings, which led to Will to find Lucy's application for Miss Teen Bluebonnet that she never turned in. This inspires Will to apply to compete in the pageant as a "protest in heels." Will and her friend Ellen, played by Odeya Rush, sign up for the pageant which leads to Millie Michalchuk and Hannah Perez to sign up, as well. Millie and Hannah are inspired by Will because they are both not "traditionally" attractive. Millie always dreamed of competing in the pageant, but because she is more plus-sized than traditional beauty queens, she never tried to participate. Hannah is very edgy, with short hair, and she is participating as a complete protest over the whole beauty pageant idea.
Will's mom is shocked by her application, but she let's her compete. Will initially doesn't take the competition seriously. Will floats through most of pageant practices. A conflict arises with her and her friend, Ellen. Will feels like Ellen is taking the competition too seriously, and that she would never understand how Will feels since Ellen is skinny. Now, Will is struggling with a fight with her best friend, the death of her aunt, and her insecurities. While Will was combing through Lucy's belongings, she found out a flyer for a bar that hosts a "Dolly Parton Night." Will, Hannah, and Millie drive to the bar, and the bouncer lets her in because of her relationship with Lucy. Inside, the girls meet drag queens who later on will help them with their pageant routines, costumes, and their confidence.
Will finally takes the pageant seriously. Her relationship with Ellen and her mother are fixed. The pageant takes place, but Will is disqualified because her talent routine had major changes added on last minute, which results in immediate disqualification. Although she was disqualified, Will escorts Ellen out at the final stage of the pageant. I will leave the results of the pageant as a mystery for you to find out.
Throughout the movie, Will has a love interest named Bo, played by Luke Benward. Bo has a huge crush on Will, but Will doesn't believe that a boy like Bo would like her because of her size. When Bo finally confesses his love, Will turns him down. Will Bo give up? Does Will get over her fear and confess her feelings?
The screenplay was written by Jennifer Aniston. The acting is good, and the movie was shot beautifully. The movie's soundtrack was written and performed by Dolly Parton. I don't think Dolly Parton can make bad music.
Dumplin' is a great coming-of-age movie. Not only does it encompass being a teenage girl, but it also encompasses being a plus-sized, teenage girl. It shines a light on the damages caused by traditional, beauty standards imposed on women, but it also shows girls that they can overcome those standards. The story hits you in the heart with how relatable Willowdean's feelings are. Even my father cried while watching it.
About the Writer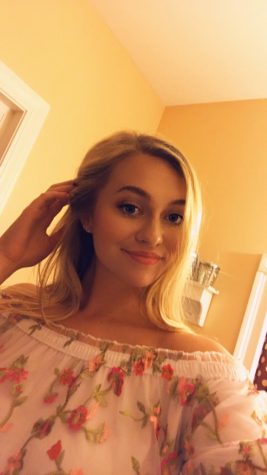 Chloe Shepherd, Staff Writer
Hi! My name is Chloe Shepherd. I am a junior. I like fashion, makeup, and movies. This is my first year on the newspaper staff.