Trump Attempts To Calm the Waters At The US Border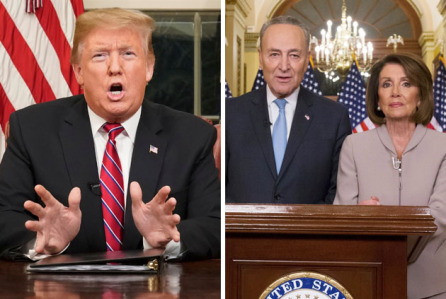 Hang on for a minute...we're trying to find some more stories you might like.
January 8, 2019 – President Trump took to cable television in an attempt to drum up support for his efforts to erect a concrete border wall as well as his efforts to increase border security and policy. Following his message, House Majority Leader Nancy Pelosi (D) and Senate Majority Leader Chuck Schumer (D) made their own statement to the American people: a call for morality as well as a rebuke against President Trump's efforts to "hold the American people hostage" throughout this most recent government shutdown.
President Trump's speech was noticeably lacking his usual fiery fervor that his opponents have attacked him for and his proponents seem to love. Trump instead laid out two arguments for why a border wall is necessary. His first argument was one that questioned the nature of the morality argument from Democrats, saying:
"
Some have suggested a barrier is immoral. Then why do wealthy politicians build walls, fences, and gates around their homes? They don't build walls because they hate the people outside but because they love the people on the inside. The only thing that is immoral is the politicians to do nothing and continue to allow more innocent people to be so horribly victimized."
— President Donald Trump
President Trump then listed three occasions of violent crimes committed by illegal immigrants only recently, citing both the murder of young officer Ronil Singh of California who was savagely murdered by Gustavo Perez Arriaga on Dec. 26, 2018; the rape, beating, and murder of Air Force veteran Marlyn Pharis in 2015 by Victor Martinez (the man Trump cited) and another man who was a U.S. citizen (a detail President Trump decided to omit); and the rape, dismemberment and beheading of Robert Page in Georgia, killed by Christian Ponce-Martinez and according to information released by the White House Ponce-Martinez had been previously encountered by border security personal and ordered to return to Mexico in 2015.
Following President Trump's speech, Pelosi and Schumer gave a joint speech as a rebuke against President Trump's efforts to erect a barrier on the Mexican-American border as well as his speech just moments before.
"
I appreciate the opportunity to speak directly to the American people tonight about how we can end this shutdown and meet the needs of the American people. Sadly much of what we heard from President Trump throughout this senseless shutdown has been full of misinformation and even malice."
— House Majority Leader Nancy Pelosi (D)
Pelosi and Schumer ended their short speech on this:
"
The symbol of America should be the Statue of Liberty, not a 30 foot wall. So our suggestion is a simple one. Mr. President, reopen the government, and we can work to resolve our differences over border security. But end this shutdown now."
— Senate Majority Leader Chuck Schumer