Seymour Arrows 2nd Place at the State Qualifier
Seymour Invitational Tournament and State Qualifier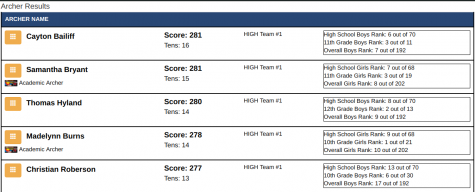 Seymour Archery Owls competed in the State Qualifiers last weekend on February 8th and 9th to get a shot at State being held in March. State is held in Indianapolis, Indiana
How does Archery work?
Equipment:
Everyone uses the same bow, the Mathew Genesis, due to this being a worldwide program. It is in 47 states and 11 countries. Nobody can have better or worst bow than someone else. You use the Genesis 18-20 arrows.
Scoring:
A perfect score is 300. In a tournament, we have a five arrow warm-up at ten meters. Then you shoot five arrows for each set for a total of fifteen arrows that are scored. Then you move back to fifteen meters where you have a five arrow warm-up and you shoot fifteen arrows to be scored as well. So if you have thirty tens, that's a perfect score of 300. You are shooting at a bulls eye target with rings. Each ring is pointed differently. So the center is 10, then 9, and it goes out to zero.
Whistle Commands:
Everything is controlled through whistle commands. Not everybody speaks the same language but everyone speaks whistle. Two whistle blasts means "Get Bow." One whistle blast means "Shoot." Three whistle blasts mean "Go Get Arrows" or "Go Score Arrows." Five or more whistle blasts means there is an emergency.
How do I join Archery?
If you're interested in signing up, watch for announcements in the second week of September. There is an archery owl camp the third week of June. Archery is the only sport where boys and girls compete side by side. To have an official team you are required to have four members of the opposite sex in the top twelve. Practice is at 6 A.M. Tuesday and Thursday.
The program starts in fourth grade and continues through twelfth grade.  You start out in a club in September. In September they have the Archery Owls Shootout. That is where you shoot for team spots. There are two teams for a total of 48 archers, 4 alternates, and 2 managers. You shoot as teams January through May.
You can contact the head coach, Jill Purkhiser, for more information!
Interview with Jill Purkhiser
"My name is Jill Purkhiser. I am the head coach for the Archery Owls. This is my fourth year. We started four years ago so we are still new. I've had archers now who shot with me as freshman and are now seniors. We started out really small, we only had twenty-four archers come out first year and this year we have seventy!"