Opinion: When is a good time to start decorating?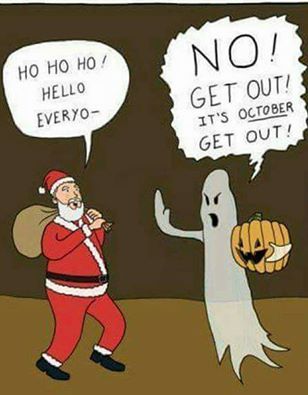 It's getting to be that time of year. Arguably the best time, in my opinion… fall and winter! The weather gets colder, and the leaves shift to rustic and golden hues. Between the skeletons and holly, there's quite the debate on which season/holiday is superior: fall or winter?
Although that is a fairly opinionated discussion, I feel like there is a greater, underlying debate: when is the appropriate time to start decorating for these holidays? I feel very strongly about this topic personally, and I'm here to set the record straight.
As far as I'm concerned, Halloween and fall decorations should be put up in October. General fall decorating time has a little bit of breathing room, but Halloween walks a thin line. According to the National Retail Federation, consumers are predicted to spend $2.7 billion on Halloween decorations this year. Now, why spend that much money on decorations, especially if you're just going to put them on your front porch a month before people start to care about them? More times than not, it's still 80-90 degrees outside in September. How can someone get into the spooky spirit when they're still wearing shorts and sandals? I mean, the temperature high every day for the next two weeks is supposed to be in the upper 80's. How can anyone feel festive in this weather? I was outside for a couple hours yesterday and got fried!
Now, onto Christmas.
Winter has an even bigger window of opportunity, since the weather is normally already cool. I think that true winter/holiday decorations should be put out after Thanksgiving, to ensure maximum fall celebration time. I mean, it's really just a great excuse to buy even more holiday decorations on Black Friday, right? I think the real issue of winter/holiday decor is how long they should stay up afterwards. I'd say at most, true holiday decorations should only stay up for a maximum of 2 weeks afterwards. Since winter is a comfortable and cozy time, it's understandable that people would be slower to do the tedious tasks.
Basically, don't decorate too early, and don't take down those decorations too late. Get festive in a fashionable time frame, people.
Here's some more information on the topic:
https://www.houzz.com/discussions/2644253/how-early-is-too-early-for-fall-decorating
https://nrf.com/media-center/press-releases/halloween-spending-reach-9-billion
https://www.lifeinpleasantville.com/how-early-is-too-early-for-christmas/