Boys Basketball Recap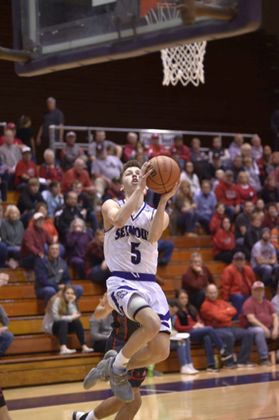 WE ARE FOUR WEEKS IN AND HERE'S THE SCOOP…
November 26 vs. Corydon Central: The Owls took on the Panthers at Lloyd Scott Gymnasium and won their first game of the season. It was a tightly contested game in which Seymour edged out Corydon and won by a score of 49-45. Seniors Eric McCoy and Jayden Brown led the scoring for Seymour with 13 points each.
November 30 at Southport: The Owls basketball team played their first away game at Southport. The Cardinals handed Seymour their first loss of the season, 54-34. The Owls had a strong first half, but were unable to keep up the necessary intensity in the second. Senior Eric McCoy led the scoring for Seymour with 11 points.
December 6 vs. Brownstown Central: Down by as many as 17 points, the first 3 quarters of the rivalry were tough for Seymour. The fourth quarter, however, could not have been more different. With 10 seconds to go senior Eric McCoy hit a 3 pointer to knot the game at 40 and send the game to overtime. Unfortunately for the Owls, Brownstown senior Isaiah Wineinger scored 5 out of their 6 overtime points to finish the Owls off once and for all. Eric McCoy led the scoring with 22 points.
December 7 at Franklin Community: It ended 52-55 in Franklin's favor, but this could be seen as an unfair  scoreline from the Owls' point of view. Seymour led all game including as many as 9 points with 3 minutes left in the 4th quarter. With just under a minute left, Franklin tied the game to send it to overtime. In overtime, the Grizzly Cubs took an early lead that they would never relinquish.