Seymour Boys Soccer win the O-Cup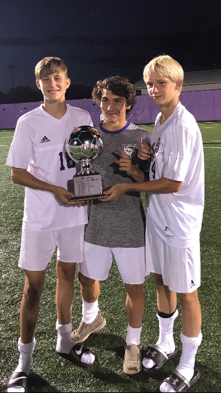 On Tuesday, August 22, the Seymour Owls hosted the Columbus East Olympians boys soccer teams where they battled for the O-Cup.
The JV game began at 5:30 PM. Seymour won with a final score of 4-1. The two varsity teams started the 80 minute battle at 7:00 PM. Twenty-four minutes into the match, Junior Daniel Hartman scored from about 40 yards out, chipping it over the goalkeeper.This being his 8th goal in just three matches! The assist came from Junior Cole Fosbrink.
Minutes later, East matched the goal tying the game.  Quickly after that the Olympians  took the lead with 18 minutes and 23 seconds left in the half. Just when East had all the momentum after scoring two back to back goals, Fosbrink sends the corner kick in, and Senior Zach Moore headed it past the keeper to tie the match 2-2.
There were many chances in the second half for both teams to score, but neither made it happen. The match ended with a score of 2-2. According to official IHSAA rules for high school soccer, if the two varsity teams tie, the JV game winner will decide the tie match. This meant a victory for the Seymours' JV and Varsity teams.
School spirit was full blown with Seymour students filling the stands to cheer for the Owls. Cole Fosbrink thought the atmosphere was "incredible", and the Owl's Nest student block played a huge role in that.
Boys soccer coach Matt Dennis said, "Can't stress enough how important our fans are. The energy from the crowd really did transfer to the boys on the field."
Daniel Hartman said that it was disappointing that Varsity didn't get the win outright, but, "Back to back O cup Champs feels great."
The Owl's got to hold up and keep the O-Cup for the second year in a row.
About the Contributor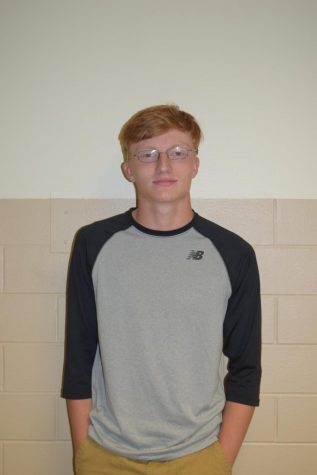 Brandon Terrell, Sports Editor
I am a Senior at SHS, and I play tennis. I go by BT. This is my second year in Newspaper. And I like to write about any and all Seymour High School Sports....