A New Modern Look
The St. Louis City Museum is known for its many repurposed architectural and industrial objects.The museum is all about fun, and it attracts thousands of people each year. Inside, there are many floors with different things on each. They have built many walk-in caves that are very neat to walk through. Outside of the museum on the side of the building, they have attached many metal structures that you can climb through. After Andrew and Darci Skaggs visited the museum they got many ideas. In 2017 Skaggs Builders built a new office, and built it with a more modern look. After the building of the office got finished they thought it would be neat to have a house that matched the style of the office, but didn't really think more about it. So a couple months after visiting the museum they decided they wanted to build a new modern house here in Seymour. The new house includes many different things, but the favorite is the slide that goes from the main floor to the basement. The wall that is next to the slide was spray painted by Kyle McKintosh, which took about a week to do. The wall is full of different colors and it matches the style of the home very well. The Skaggs picked 5 things that represented their family and Kyle painted them on the wall. Ever since the wall has been done, they still haven't found everything that represents the Skaggs family on the wall. 
About the Writer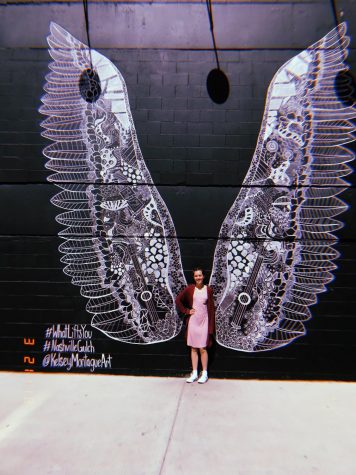 Grace Skaggs, Contributor
My name is Grace Skaggs and I am a junior this year. This is my first year on newspaper staff. I run cross country and track. I was on the yearbook staff...