50 years of Seymour's Lloyd Scott Gymnasium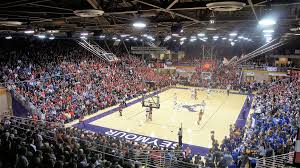 Seymour's Lloyd E. Scott gymnasium is celebrating its 50th anniversary this year. It boasts the title of the nation's largest gym by total seating capacity with a total of 8,228 seats in the gym. New Castle previously held the record with a total of 9,325 seats but a recount gave them a total of 7,829 seats. The gym opened in 1970 with a seating capacity of 8,110 seats. Since then, the gym has become host to sectional, regional, and semi-state games. In its time, the gym has also hosted several "Mr. Indiana Basketball" stars including the likes of Damon Bailey and more recently, high school standout Romeo Langford. Langford was selected 14th overall by the Boston Celtics in the 2019 NBA Draft.
Lloyd Scott Gymnasium recently gained attention on Youtube. Sam Neidermann created a video that gives an in-depth description of the gym. The link to the video can be found below, and it includes footage from the Owls' rivalry game against Brownstown Central. The video currently has 2.3k views. Watch it here!