Owls split Senior Night dual meet with BNL
January 21, 2020
Boys' Scores
Owls ~ 73
Stars ~ 112
Girls' Scores
Lady Owls ~ 119
Lady Stars ~ 61
The Seymour Swimming Program said goodbye to another group of seniors last night. The class of 2020 is host to five swimmers: Abby Boyt, Harrison Cottrill, Elizabeth Hartman, Trevor Layne, and Madison Underwood. They were honored with a brief pre-meet ceremony and post-meet refreshments.
The Bedford North Lawrence Stars traveled west 35 miles on Highway 50 to visit your Seymour Owls on Tuesday, January 21st. The Stars brought an aggregation of talented boys'  and girls' swimmers along with senior Andrew Swenson who has verbally committed to swim at Purdue University starting next fall. The aptness of the Stars was too much for the Owls as they fell 112-73. Placing first for the Owls was Trevor Layne (12) with a time of 1:01.98 in the 100 Breaststroke.
The girls had much more success in the pool as they prevailed 119-61. Touching first for the Lady Owls in relays was Katya Cox (9), Abby Boyt (12), Maren McClure (10), and Sandy Cerino (11) with a 2:03.32 in the 200 Medley Relay. Cox, McClure, Cerino, and Samantha Jacobi (10) took the 200 Freestyle Relay in 1:52.09, and Boyt, Jacobi, Lillian Sunbury (10), and Olivia Fish (9) won the 400 Freestyle Relay in 4:18.33. Individually, Cerino won the 50 and 100 Freestyles in 26.64 and 58.29 respectively, Amelita Vasquez (11) took the 200 Freestyle in 2:16.10, McClure took first in the 200 I.M. with a time of 2:25.29, and Alexandra Weaver placed on top in the 1M springboard with a score of 123.20.
The Owls will be back in action Thursday, January 23rd at Columbus East as they take on the rival Olympians.
About the Writer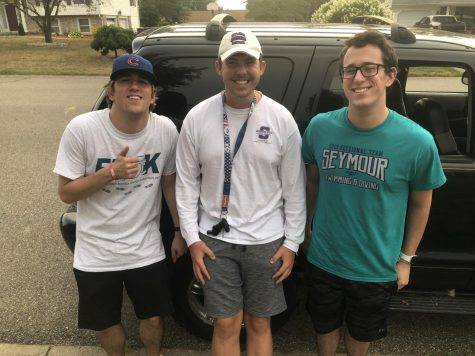 Harrison Cottrill, Editor of Arts
Hey guys, my name is Harrison. I'm a senior and this is my first year on the newspaper staff. I'm in band, choir, and I also swim. I'll mostly be covering...