Owls Win OT Thriller vs. Austin
The Seymour fans caught a glimpse of the future on Senior Night, last Saturday. Freshman, Landon Fritsch, scored 21 points including five three-pointers, to lead the Owls to a 43-41 victory.
Points were scarce in this match-up, particularly in the first half. The game stayed tied at zero until Austin senior Trey Hargrave ended the scoring drought four minutes into the game.
The visiting Eagles kept the hosts at bay, leading the Owls for all 16 minutes in the first half. They continued to lead the Owls until Fritsch hit a three-pointer with two minutes to go in the third period to give Seymour a 23-20 lead. Two more three-pointers from the freshman extended the lead to nine points midway through the fourth quarter.
Braden Handloser, a senior at Seymour High School, commented on Fritsch, saying, "It was fun to see Landon shooting so well. He had the whole student section going nuts." Handloser even gave the freshman a nickname, calling him "Cash Fritsch."
Austin, however, was not done. The Eagles responded to the Seymour run, chipping away until Hargrave hit the game-tying three-pointer at the buzzer to send the game into overtime tied at 34-34. 
The Eagles continued to give the Owls problems in OT, forcing two turnovers in the four minute period.
Yet another three-pointer from Fritsch gave the Owls a 41-39 lead with just over a minute to go. Needing a bucket, Austin put the ball into the hands of Hargrave, who drove to his right, stopped, rose and drained a 15 foot jumper to level the score.
The Owls brought the ball up the floor quickly, looking for an open shot. They found that shot when Eric McCoy drove and dished the ball to sophomore Casey Regruth, who sank a mid-range jumper with 2.8 seconds to go and put the Owls up by two. Austin's final shot clanked off the rim, handing Seymour its first overtime win of the season and an exciting end to Senior Night.
Along with Fritsch's 21, Casey Regruth added eight points, junior Drew Vehslage scored six points, and sophomore Marcus Brooks had two.
Eric McCoy led the seniors in scoring with six points, while Seymour also got contributions from Aiden Goen and Montana Suits. Unfortunately, Colin Madden and Jayden Brown were unable to play on their senior night due to injury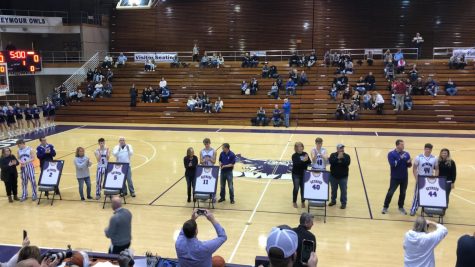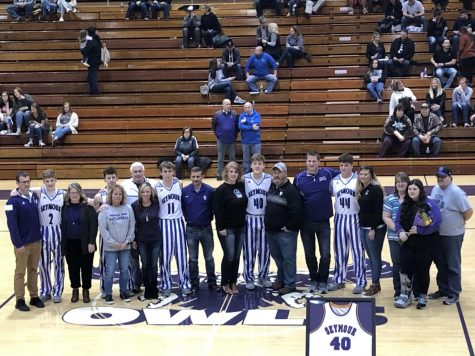 .
The Owls' (8-13) next match-up is against the Silver Creek Dragons (20-2) on February 28.