Coronavirus Aid Package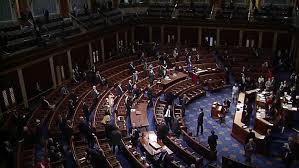 On Thursday, March 26, the United States was officially declared to have the most recorded cases of COVID-19 out of any other nation. Recently, the U.S. has been rising in the ranks, but becoming number one in the world has sent a new message to American citizens. Although social distancing has been heavily supported by important figures, peers, and leaders alike, some people have not been able to fully grasp the large effect that this virus is having on so many people. There are millions of people struggling financially, citizens who are going hungry due to food shortages, and businesses that are forced to close in order prevent the spread of the virus. 
As America struggles with all the uncertainty and difficulty of the spread of the coronavirus, the Senate has passed a nearly two trillion dollar coronavirus aid package bill that will bring relief across America. This aid package contains relief efforts for families, businesses, and students. Some of the contents of the bill are as follows: 
Households mainly in the middle class and lower income levels will benefit from direct checks that come around to $1,200 

Increased unemployment insurance for people who have been laid-off, including an extension of the time span of unemployment insurance and a $600 increase to the max insurance benefit

At least $150 billion worth of funding for health care facilities and research, including a larger budget for equipment such as masks and ventilators

State governments will receive $150 billion to assist with spending shortages that are due to the pandemic

$350 billion worth of loans for businesses that have suffered because of the pandemic
This coronavirus aid bill is the largest in american history. 
Friday morning the House held a voice vote for the bill in order to reduce risk of exposure for the House members. Republican rep. Thomas Massie angered House members of both parties when he held uncertainty over passing the bill, causing some House members to go to Washington in order to insure that the bill would pass on Friday. Trump showed complete support for the bill, and promised to sign it as soon as it was passed. 
Some of the concerns and criticisms of the bill include how the new unemployment insurance could allow people to make more money on the insurance than they would getting a job. There was also a concern about the national debt that would be added to America's name. However, only time will tell how the benefits outweigh the losses when it comes to the coronavirus pandemic and our relief efforts.
About the Writer
Madison Auleman
Hi! I'm Madison and I am a junior at SHS. I play the alto saxophone and I am also a NHS member. I also enjoy being a DARE role model!