TECH-YES-LOGY

Through these difficult times with the coronavirus, people are restricted to their homes, have little human-to-human contact, and are even running out of toilet paper. Not being able to see other people can do a number on how we function on a day to day basis and the overall mood. Thanks to technology and the amazing abilities it holds, this time does not always feel so lonely and hopeless.
After a year of planning, one of my family friends was anxiously awaiting her wedding day on March 28. My family was excited too as it was going to be a beautiful ceremony and the talk of my family for months. The wedding was actually supposed to to be a big affair and take place at a church followed by a fancy reception, but when the Governor of Indiana sent out a proclamation that no more than ten people could gather in one place, they had to make the very difficult and sad decision to cancel their original plans and make other arrangements. The date was moved up by one week and the location was changed. No one attended the wedding except for the immediate family and the pastor.
The lifesaver for the wedding was technology. When the family realized that none of their close friends or other relatives could attend, technology was something that could fix the problem. A computer was placed at the end of the aisle and where everything was seen from the entrance of the bride, to the kiss, to the celebratory dances and screams by the family at the end. While the bride and the groom were in what looked like a conference room, making a very big step in their lives, my family was in sweatpants and t-shirts while being wrapped by blankets and eating goldfish. Loved ones, wherever they were, whether it be in bed or at a table or on a couch, were able to share this beautiful moment and celebrate with them when it was over. All of this would not have been possible without Google Hangout.  
Another part of my life that has been turned upside down is attending church on Sunday. Although I have only witnessed one mass, the service has definitely changed. Again, while in sweatpants, sweatshirts, and blankets, my family sat on the couch and participated while the service went on. Our service, like many others in the community I am sure, are recorded and then uploaded to YouTube for our church to watch on their own time. My youth pastor was the skilled camera-woman while the priest went on with church. No music was sung because my church is trying to minimize the number of people in the church at a time. While watching mass in my living room is not ideal, it provided a reminder of normalcy and consistency. I think everyone needs a reminder, now more than ever, that many things are changing but we will reach normalcy again and all of this is just temporary. Something else that has always been constant for me is Youth Group every Wednesday. My youth minister is doing an awesome job while trying to connect with youth through Instagram and Facebook. The site lagged at times but, again, at least her trying is bringing back some form of normalcy to our youth group.
With the coronavirus, technology provides a way to keep some hope and reassurance that this difficult time is only temporary. Whether it be for a wedding, church, or just to talk to a friend, it is very nice to be able to have those interactions. While it may not be ideal or convenient, having technology and having it during this time is an undeniable blessing.
About the Writer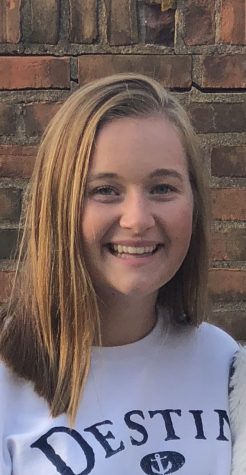 Ellie Cornn,
Hey! My name is Ellie Cornn, and I am a junior at SHS. I am Key Club's President and am one of two clarinet section leaders in band. Some of my school...