Dear SHS…
Dear Seymour High School,
In my wildest dreams, I would have never thought my sophomore year would end this way. I had goals I planned on achieving, friendships I planned on making, athletic accomplishments I planned on destroying, and so much more. It seems like just yesterday, people were making jokes, including me, about a virus that would soon affect the whole world. I never would have thought this pandemic would lead to where we are right now.
I remember the first day of my freshman year I was this shy and awkward kid that was scared of the thought of high school. (I thought I was going to get beat up, but it never happened!) The two years at SHS have shaped me in so many ways. I took advantage of seeing my friends every day and to be able to go to school, but I never knew I would miss school this badly. I miss hearing the hilarious and serious conversations that took place during the school day. I miss the face to face interactions I had with teachers, classmates, and my best friends. I miss gathering in the commons with a group of my close friends each morning discussing the upcoming tests, homework assignments, the latest Grey's Anatomy episodes, and just the normal conversations.
Thank you for the countless hours at the softball and soccer fields. For the long trips to away games and the thrill of playing at home in front of Seymour's amazing community with teammates I can forever call my family. Thank you for the blood, sweat, and tears that I was able to work for. Thank you for the endless friendships that will last a lifetime. From laughing and smiling in the hallways with friends to the long lectures with my fellow classmates. Every year since kindergarten, my dad, sisters, myself, and the same group of friends, sometimes with an addition of a few more, have gone to breakfast together to celebrate the beginning and ending of every school year. Every year, I would look forward to the annual dumpster picture because there was nowhere else to take a picture! Every year, I look forward to rushing into school because the start of the day was near. The ending of my sophomore year would mark the tenth year of this annual tradition.
Thank you for exposing me to the best people and teachers that I have ever met. I feel like my success was just getting started. Because of this pandemic, what myself and other classmates have worked so hard for is not able to get the recognition we deserve with the National Honors Society Induction.
I look forward to more years of growth and experiences. Thank you for the opportunities you have given me to help get where I want to be. Thank you for a great two years, but we are just getting started. Here's to two more even better years!
Sincerely,
Cam S.
About the Writer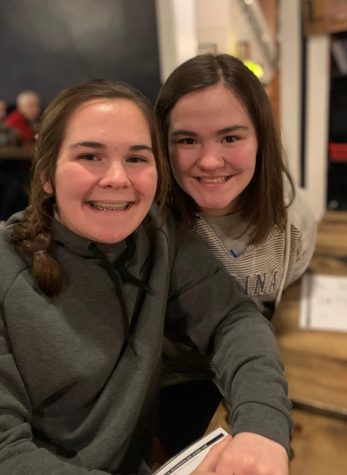 Camryn Sterling, Staff Writer
Hi! My name is Camryn Sterling, and I am a junior at Seymour High School. I am on the high school's soccer and softball teams. This is my second year being...