Haunted Hoosier Legends Part Four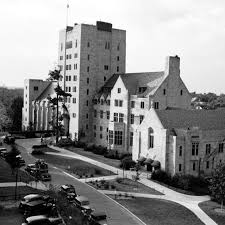 Have you ever been to Indiana University campus? If so, you may have encountered something strange without even noticing. The Indiana Memorial Union, IMU, lies on campus, and is still used by students and staff daily. Built in 1932, the IMU was created by a student to bring people together socially and academically. The IMU is a limestone, vast building with various floors and wings, and some of those areas are said to be inhabited by the deceased. Rumor has it, that the elevator will malfunction and stop on the fourth floor, and there's a little more to it than faulty wiring.
The Biddle Hotel is located in the IMU, and it could be considered one of the spookiest spots in the building. It accommodated guests from all over the country, and a particular couple that stayed there didn't enjoy it too much. They got in a bad fight, that lead to suicide, and it is said they will manipulate the elevator and roam around Bryan Hall.
There are many other legends that float around the IMU, some people referring to an infamous bloodstain, a ghost dog, and even a haunted picture. I have been to the IMU on multiple occasions, not only because the paranormal spark my interest, but also because I plan to attend college at IU. I can say from personal experience that there is definitely something odd in the Biddle Hotel. It could be a historical aspect,  but I get more of an eerie feeling from it. We took the escalators, instead of the elevator, because we actually saw it stop, and it didn't look structurally safe. The IMU is still inhabited by swarms of students looking for a quiet place to study, and now has a few businesses and restaurants inside of it.
Next time you stop by Bloomington, I would highly recommend visiting the Indiana Memorial Union. Regardless of what you see, there is beautiful art, statues, and history filling the building. Just be sure to use the stairs.