March 13, 2020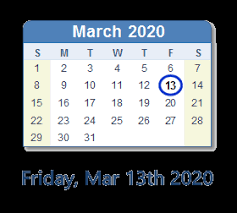 The day that changed everything was Friday, March 13, 2020. Almost a year has passed since we got the news that we would not be returning to school for two weeks. No one would have thought that we would still be dealing with a pandemic today.
It all started early in the morning when the announcement came through the speakers that we would not be having the Academic Convo and our lunches would be split. Everyone was feeling so many emotions because no one knew what to expect. The rumors about what would happen next spread through the school like a wildfire. The next announcement we received was in our seventh block, and we were told by school administration that we would not be returning to school for at least two weeks. We were instructed to take all of our supplies and books home. When we left for spring break at 3:30 that day, we all expected to be back after two weeks.
The two weeks of virtual learning quickly turned into the rest of the school year. We then got to spend a little over a month in quarantine at our homes. Jobs started to make their employees work from home, restaurants shut down, and gatherings had limits on the amount of people that could attend. Rumors would spread that life would return to normal on a certain day, but then that day would pass by. Although we were able to return to school this fall, it was not the same as a normal school day. We had to battle with masks, quarantined students, and eventually having a hybrid schedule. School and life have changed drastically due to the pandemic we have been living through.
Since we left on that fearful Friday the 13th, life has not been the same. We have had to learn how to follow restrictions, try to live a normal life, and survive a pandemic. As we reflect on the one year anniversary of leaving school, it is strange to think of everything that has happened over the last year. It has been life altering for everyone, but everything happens for a reason.