Swimmers break school records, compete for state titles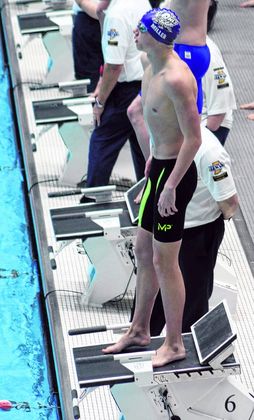 SEYMOUR- Death. Taxes. Seymour Swimming & Diving sending someone to State. It seems like clockwork for the aquatic athletes of SHS to make a splash at IUPUI's Natatorium. In 2017, the 200 Free Relay team of Katie Turner, Sarah Montgomery , Nastya Garcia , and Kenzie Persinger , Jake Vance in the 50 Freestyle, and diver Devin Ramsey all qualified for state. Two years ago, Devin Ramsey finished fourth in the 1m Diving Contest. Last year, Trevor Layne qualified for the 100 yard Breaststroke. The streak would continue in spite of complications with the ongoing COVID-19 pandemic, as both a relay team and individuals for both the women's and men's teams would find their names on the sheets. 
Senior Bryce Miller overachieved, qualifying in the 50 Meter Freestyle, 100 Meter Freestyle, and as a member of the 400 Yard Freestyle relay alongside Sophomore Paul Montgomery, Junior Clayton Greenawalt, and Freshman Pedro Cerino. Junior Maren McClure also competed in the 100 Butterfly.
Not only did the Owls find success at State, but many school records were broken in the process as well. Senior Sandra Cerino broke the Women's 50 Freestyle Record and was also a member of the record-breaking 400 Yard Freestyle relay with McClure, Katya Cox, and Samantha Jacobi.
The Owl would like to congratulate the swimmers and divers on another successful season!