Haunted Hoosier Legends: The Whispers Estate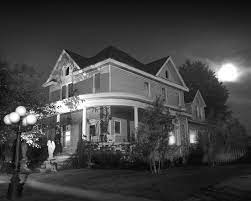 Haunted Hoosier Legends : Whisper's Estate 
Many paranormal enthusiasts flock to the small town of Mitchell, Indiana to see the allegedly haunted Whisper's Estate. The estate has been ranked as one of the most haunted places in the USA. A documentary about the haunted house called "When the Walls Talk" has allowed more attention to this small Indiana town. 
History:
The Gibbons family purchased the house in 1899 to settle down in. Mr. Gibbons was the town's main doctor, saw patients in the office of the house, and often took in children. His young daughter accidentally set the parlor on fire not too long after they had moved in , and unfortunately died due to her injuries.  Following soon after, his infant daughter of the family passed from unknown causes in the master bedroom. Later on, his wife died from pneumonia in the same bedroom.  However, the deaths don't stop here. A man in the 70's died in the bathroom and a young boy died falling down the stairs. The house was most recently bought in 2006, and renovated. The new buyer heard whispers while renovating the house, and started calling it "Whispers Estate"
        Paranormal Activity: 
Some paranormal investigative teams have done overnight stays in the house. Guests who stayed in the master bedroom reported sharp pains in their chest, difficulty breathing, and coughing. Some also report the smell of baby powder in the room, and question if it is from the infant who passed in the room. A public commenter reviewed the house talking about their responsive experiences with a ouija board. There's been some discussion about a "shadowy figure" who locals call "Big Black." The most popular, though, are the disembodied voices heard throughout the house, giving it it's name. Some speculate that there is some sort of paranormal "portal" here that attracts death and spirits. Many visitors report unusual activity in the attic, and often have interactions with spirits. Some suggest demonic activity, and say that they will never be back. On the contrary, skeptics state that the house is just a big marketing tactic to make money, and that there is no real activity here. Although I haven't been yet, I would like to visit the Whisper's Estate to see for myself what really inhabits the house.
Sources:
southernindiana.org
whispersestate.epizy.com
The photo in this article was not taken by me