Bring Positivity to Students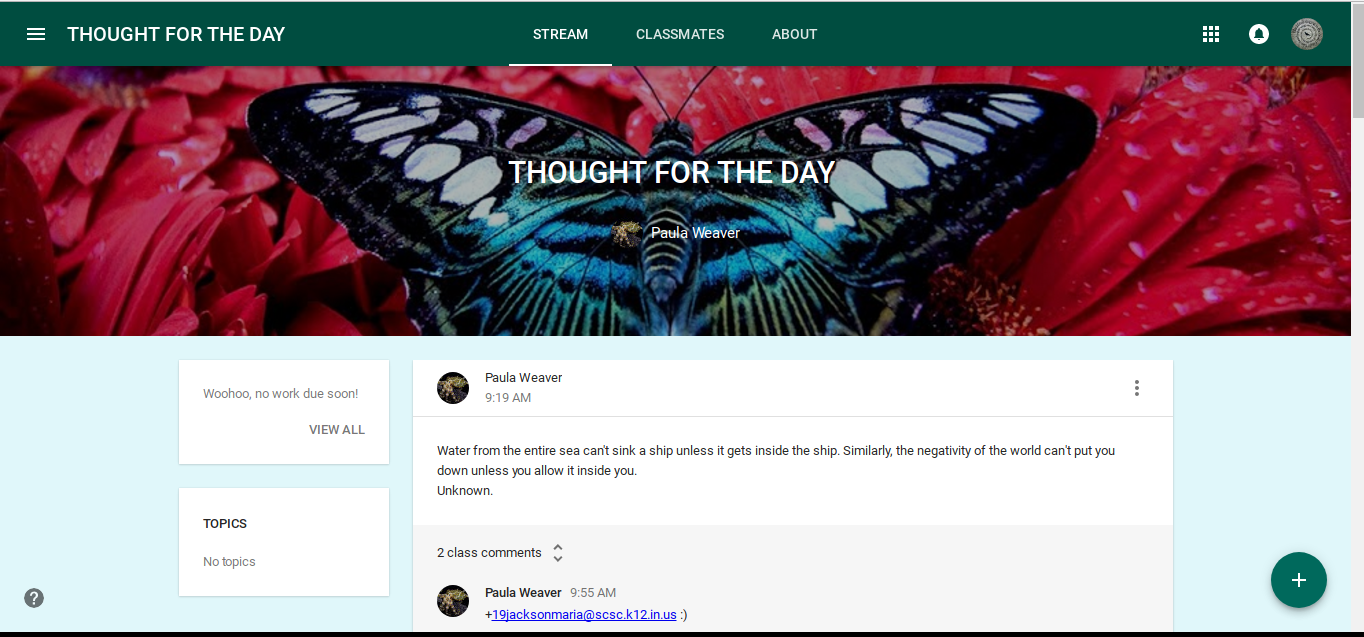 At the beginning of the 2017-2018 school year, a classroom was created by Mrs. Weaver in order to post a "thought of the day" to give students a positive outlook. So far 119 students have signed up for the classroom. The code for the classroom is coetiuz.
Weaver explains, "I created the thought of the day last year because many of my students were frequently expressing negative or unhappy thoughts.  I feel negativity spreads from one person to another and felt I needed a vector to help combat this. So, I started sending just my classes a positive quote or message everyday via our classroom.  My students soon were making responses about a quote that helped them or meant something to them."Just one simple quote can affect someone so much that they change something about their day and how they act.  Bringing positivity in one statement can make someones day entirely. "In fact, if I was late in posting or forgot, I would have students email me or stop by to remind me!" Just a smidgen of positivity can make someone so happy. They may not be having a good day and need some uplifting. Having a quote like this in the morning can make someone take the hurt and turn it into something positive. "With the new year I knew I would continue sending positive quotes to my own students but then had someone from last year say they missed my thought for the day.  I then decided to create and open a thought for the day classroom to the whole school to hopefully create a more positive attitude among students about each other, themselves and life in general." This impacted Mrs. Weaver's classes last year so much she decided to bring this to the entire school. 
Each morning a new quote is posted for students to read. Comments have been made on how they feel about it. It gives students a sense of self and they can relate to something that may be happening in their life and give them a positive outlook on it. Ester Baltazar says, "Everyday I sorta look forward to the Thought for a Day quote. To see if it is relatable and can apply it to my day. It's affected me in a positive way to simply put it." This classroom has helped many students become a better self and be more positive.
Students even have ideas on how to make the classroom better. Sophomore Liam Combs says, "Some students should also make quotes to put on there." Many different quotes can affect many students and change their way of thinking. Some students may be having something happen in their life. If this change is made for students to post their own quotes or send them in they could help someone else who is having a similar issues.
Many students have even recommended the classroom to some of their friends. The more this classroom is spread, the more positivity will be spread. More and more students are becoming more positive and leaving negativity behind. There is also a physical and mental benefit of leaving negativity behind. Positivity can make a person more healthy, can improve financial success, improve athletic ability, and increase how many friends a person has. This classroom is a good way to start being more positive.
About the Writer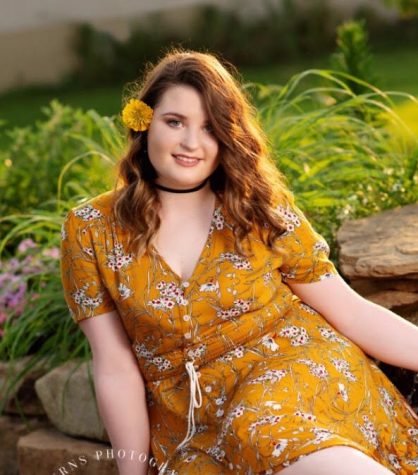 Phoebe Hughel, Editor
This year I am a senior at Seymour High School. I have been in newspaper for three years and this will be my last year. I plan to go to college for nursing...