2021 Dance Marathon Shatters Goal
Seymour's Dance Marathon for Riley Children's Hospital was back Saturday night November 2o after a one year hiatus due to complications from COVID-19.  The event is usually held annually by student-led organizations all across the country. Their goal is to raise as much money as possible for kids in Riley Children's Hospital to provide them with the equipment, staff, and research for any medical procedures they may need. There are more than sixty high school and collegiate organizations in the nation, making it the second largest student-led organization in the country.
Each student in attendance Saturday night bought a ticket for $20 which included a t-shirt and a fun night. Local businesses sponsored the event with food such as pizza, chicken and rice, cookies and dilly bars and Pepsi supplying drinks. Games like 9-square, giant Jenga, basketball, volleyball, spike ball, gaga ball, inflatables and corn hole were available for entertainment throughout the night. Students were divided into teams and learned a new game called plunge ball, and a class dodge ball tournament was held in which the Seniors topped the Juniors in a close final. When attendees weren't playing games or socializing with one another, they were learning a dance created by IU Dance Marathon. The dance was taught and practiced in intervals. By the end of the night, the dance was learned and  performed collectively as a group. The night ended with a suspenseful reveal of this year's earnings and their seven year total. This year's grand total was $21,074.80 with the seven year total being $109,552.19. Both totals easily surpassed their goals of $15,000 and $100,000 respectively.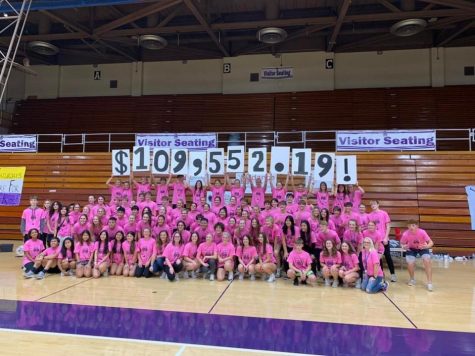 Throughout the night, guest speakers offered their first-hand experiences with Riley Children's Hospital and how much it meant to them. The first speaker was Eric Kinser and his son Matt, who was born very prematurely only halfway throughout the pregnancy. Eric explained the struggles he and his family endured, and their long journey with Matt. They were told he wouldn't walk or talk, and eighteen years later, Matt was standing on stage with his dad, sharing his story with everyone in attendance, all thanks to Riley.
The other guest speaker was Jason O'neal who was joined by his wife Melanie and daughter Jorja as he recounted his Riley experience.  He too was very grateful for the hospital and its hard working staff that performed procedures on Jorja. Jason was also told there was a possibility that she couldn't walk or talk either, but she stood up on that stage with her mother and father and shared a few words of her own.
"It was hard to get started and we didn't start until late because of COVID. We sold bracelets at the end of the school year, but we didn't really do anything until we came back to school when we did our parking spots." A late start wasn't the only problem Reasoner and student organizers faced. "It was hard to reach out to businesses, since many are closed on the inside and getting a manager [to speak with] was difficult."
Although they absolutely crushed their goal, Reasoner said it was a late push that got them past the mark. "The kids worked really hard reaching out to different businesses. The elementary [schools] were a big piece to us, they raised almost $7,000 and the middle school raised about $800. We did the car clean out that night, that was a big last minute push. We had a lot of online donations this year too, and it all just came together at the end like it always does." Overall, she was pleased with how the year went. "I was nervous because we started very late and it was hard to get into the businesses, but I thought that the students were awesome and worked really hard to pull it all together."
Dance Marathon hits close to home for Mrs. Reasoner. Her sister was a Riley baby, along with having family friends who've received treatment at Riley over the years. "I just feel like it's a good way to give back to some place that offers a lot for our state, for our kids."
Dance Marathon is a program that will continue to grow each year and raise more and more money in the coming years. And you can contribute even if you don't attend the program itself. We strongly encourage you to donate to a great cause! You can give a one time donation or set up a monthly one here: https://give.rileykids.org/give/288870/#!/donation/checkout.