The Secrets of Lanier Mansion: An Interview with Staff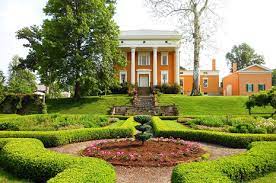 As mentioned in a previous article, the Lanier Mansion is a popular tourist attraction in the riverfront town of Madison. Many flock to the mansion for its historical appeal, but some come hoping to catch a glimpse of the paranormal. I asked a staff member some questions about what truly occurs at Lanier Mansion.
                                                 The Interview:
I have toured the mansion multiple times, and each time I learn something new. Last time I toured the mansion I asked my guide several questions about the paranormal aspect of Lanier Mansion. "Have you seen anything paranormal occur here," I asked? He responded with no, but some claim to catch strange photos or apparitions out of the corner of their eyes. The most common ghost seen is James' son who drowned in the Ohio river. Some claim to see him in a trance walking into the river, then he fades away. The guide also informed me that James' first wife passed and is said to haunt her old dwellings. "Are some of the relics in here real decorations of the Lanier family?" He replied, "yes, not all, but some of the antiques seen in the lanier home once belonged to the actual family." From a paranormal standpoint, that could very well explain why some spirits seem to stick around. Another interesting thing I learned is that one of James' sons, Alexander, was fond of gardening, and gardened a wide variety of tropical plants and fruits on the mansion's property. I've seen several reports of seeing a figure of a man in the garden, that will eventually disappear. This could help identify the alleged spirit in the garden. Finishing up, I asked, "do you get any paranormal investigators or others asking about ghosts?" "Yes, quite often," he answered. "Multiple people claim wholeheartedly that they have seen some unexplainable things here." The Lanier family may or may not still roam the grounds, but as previously stated, the mansion is a great place to tour if you're in the area.
The featured photograph does not belong to me and was not taken by me.