9 and Sigh.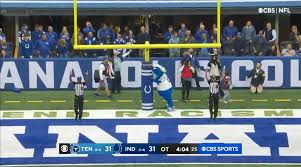 Throughout the last four seasons the Colts have started off weeks 1-4 with a record of 7-9. And, yet as fans, we marvel at the thought of missing the postseason. The Colts always like to praise themselves that after a 1-5 start in 2018, which somehow resulted in a 10-6 season with a divisional round appearance. And this year looked to be no different. Another slow start followed by an immaculate run didn't turn out to be a playoff appearance but an absolute collapse.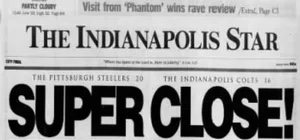 Comparing the 2018 season to this year is abysmal to do. In 2018 that team was led by the highly regarded nerdy science teacher Andrew Luck. A person, who if the game came down to it, was capable of leading a victory. That team played with passion and they had a destiny. Four years without an appearance and simply a wild-card showing wasn't good enough; that team wanted a Super Bowl. While in hindsight we know that didn't work out, we still actually won a playoff game and, mind you, it is the only playoff game we have won under our current GM Ballard and Head Coach Reich. 
However this year's team showed zero passion. Whenever hard knocks launched, it didn't help fans, but it only furthermore proved concerns. This team didn't care; it's almost as if every Sunday was a backyard game to them. We all know the person at the helm of the team and the one who receives the blame: Carson Wentz. One wide open pass to T.Y. Hilton against the Raiders and this team is playing last weekend. Not having five turnovers against Tampa and we make it. Not forcing the ball into Pittman against Tennessee and we would've played last weekend. These little mistakes only made us grumpy, yet in hindsight, they cost us the season!  This team got lucky to be where they were. If the Patriots didn't decide to not show up for three quarters, we probably would've lost. If Arizona didn't decide to shoot themselves in the foot, we would've lost. If Jacob Eason didn't decide to force the ball into the hands of Jalen Ramsey, we would've won. If we decided not to blow a 19-point-lead against Baltimore with a minute left in the THIRD quarter, we win the game!! If only one of these tiny little miscues didn't occur, guess what…, we're playing last weekend.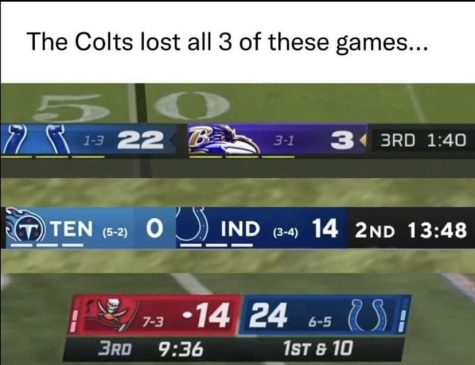 The question left for me is what's next? As infuriating as this is, this team isn't mediocre; they're not the Pacers of the NFL. We have the roster to win a Super Bowl, and to do something with our seasons, yet we just can't capitalize. Personally, I believe it's because this team hasn't found the root of its problem. I'm not claiming to know what that answer is, yet that's not my job; that's Chris Ballard's job. Is it the constant quarterback switching up? Yet, it seems like we might need to brace for another QB next season. Is it the lack of spending money? Or is it something simple and this team just doesn't have chemistry? Should Ballard and Reich be on the hotseat? Who knows these answers. The glimmer of hope is Irsay's passion to win. I expect big changes this offseason and am optimistic for next September. Until then, we can only wait to see, but hopefully we regain the passion of former teams of glory.