Seymour's bats get hot in 13-3 victory against Southport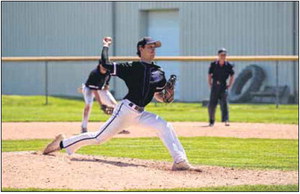 By Casey Regruth For The Tribune
A six-run first inning boosted Seymour's baseball team to a 13-3 victory over the Southport Cardinals on Saturday at American Legion Field.
The high-scoring inning saw all nine Seymour batters make plate appearances and began with a four-pitch walk to Vince Wilson. The left fielder then stole second before sophomore Bret Perry drove him in on a single to left-center field to begin the scoring.
A single by Aiden Darlage and a wild pitch by Southport pitcher Ramon Martinez scored two more for the Owls.
A bases-loaded double by senior Will Cottrill added three more runs, giving the Owls a 6-1 advantage after the first inning.
"We had a talk last night about offensively being passive," Seymour head coach Jeremy Richey said, "and I think today we came out in the first inning and were much more aggressive early in counts. The big thing was Will Cottrill with the bases loaded and two outs. It looked like we were going to get maybe three runs and he comes out and hits a big three-RBI double that extends the inning and puts the game in a different place."
Cottrill led the Owls with four RBI, going 2-for-3 with two doubles.
"I saw all fastballs," said Cottrill. "I didn't see many moving pitches other than my second at-bat. I usually do a good job of hitting an early fastball, and I'm glad that I'm getting an opportunity at the plate."
Seymour's aggressiveness at the plate was evident throughout the game by its seven extra-base hits, three of which came off the bats of Cottrill and Perry.
"(Bret)'s had a big week," Richey said. "He just goes through spurts where it is hard to get him out, and he is in the middle of that right now."
Perry ended the game with a team-high three hits, including two singles and a triple.
The Owls' high-powered offense was coupled with solid pitching performances from Treyton McCormick and Charlie Longmeier.
In his first start of the season, McCormick pitched five innings, giving up seven hits and two earned runs, while striking out three Cardinal batters.
"Treyton got hit a little bit in the first inning," Richey said, "but he settled in really well. It was his first start, and he had only thrown an inning and two-thirds going into today. To get him through five innings was good for him and good for us. We're building his pitch count, and the next time he throws he'll be able to go a little bit longer."
Though he completed five innings, McCormick needed just 54 pitches, 38 of which were strikes.
Longmeier's short, one-inning outing was highlighted by his composure with the bases loaded, forcing two infield pop-outs to end the inning.
"Charlie came in and did a nice job of throwing strikes," Richey said. "He got out of a jam. It is good for him to be put in that position because he may have to come into some of those situations."
Another bright spot for Seymour was the production it received from its bench.
Freshman Michael Wright's single in the fifth inning drove in Cottrill, and Aden Burnside, Grayson Key, and Jack Pennington all logged run-scoring extra-base hits in the sixth inning.
"We have five or six guys that are swinging right now and we're trying to find anything," Richey said. "We're giving some people some opportunities that haven't had very many, and we have to find some guys that are going to swing the bat. Between Tuesday and Friday, we didn't score a lot of runs, so we're going to get some guys out there and see what they can do."
Seymour's win improves its record to 8-5, while Southport's record drops to 3-6. The Owls' next game is Tuesday at Corydon Central.