Tents and Tailgates
Grace Beach, Staff Writer
October 3, 2017
Hang on for a minute...we're trying to find some more stories you might like.
Friday September 22, Seymour played against their rival school, Brownstown, in the 2017 Jacksonbowl. Three hours prior, the annual Tents and Tailgates occurred on the front lawn of the high school, in front of the gym. Clubs, organizations, and classes set up tents and tables with food, games, and members to talk about their respective clubs, organizations or classes. Karla Shutters, the choir's accompanist, had a few comments to add about the event as a whole. "It's always really fun, but I think everyone packed up too early and there was some confusion about time." Shutters was working the choir booth, serving drinks and talking to students, parents, and other faculty.
The wrestlers set up mats to teach kids about wrestling in. A large purple mat was laid out in the grass behind the wrestling tent, and children were permitted to learn and interact with wrestlers.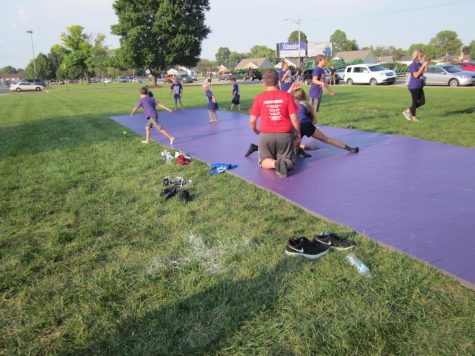 The cross country tent had food and was swamped with people, from the coaches and runners to their family and friends of both the boys' and girls' teams.
The choir tent had drinks and friendly people, and was incessantly full of choir students, their families, and even some other faculty. With a large, bright sign, it was hard to mistake this tent for any other. Shutters chatted with everyone, making the booth ever-busy.
The Seymour Marching Owls tent was brimming with snacks and noise, as can be expected of band kids. Filled with laughter and jokes and sweet treats, the band tent was a hit, and never empty. Bailey Burgmeier, a percussionist in the band, said that the event was "really fun and busy." The band had to pack up a bit early, since they had a pre-game concert at 6:15, which was a hit as well.
The Student Government was set up with loads of tables and people, and there were constantly walkers stopping in to converse with the numerous people inside.
Several students prepared for the game with paint to show their school support and spirit.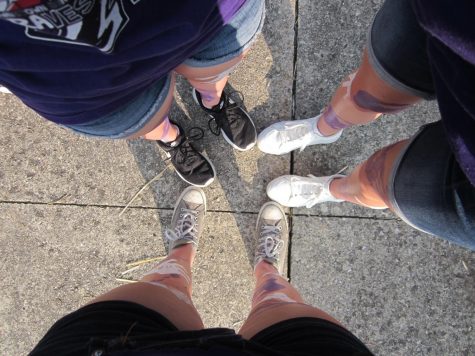 Many people were confused about what time Tents and Tailgates started, but Burgmeier said overall, "It was a good time with good food and great people."
At 6:15, the pre-game concert from the band began, featuring popular songs like "Carry On My Wayward Son", "On Wisconsin", the school song, "Shout", and "The Star-Spangled Banner".
Photos from the game by Darrion Smith.