Fight to the finish: Seymour suffers heartbreaking 2-1 sectional OT loss to Floyd Central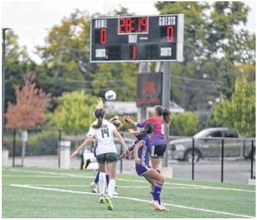 By Dylan Wallace | The T ribune [email protected]
NEW ALBANY — Seymour girls soccer head coach Greg Musser had one word to sum up Thursday's sectional semifinal performance against Floyd Central: Proud.
The Owls lost 2-1 in heartbreaking fashion as the two teams went to overtime 1-1 and the Highlanders scored the game-winning goal to advance.
As disappointed as the Owls were, Musser wanted them to know he was anything but disappointed.
"Proud of them," he said. "That's about it. Just very, very proud."
The Owls played the Highlanders to a 0-0 draw in the first half. Floyd had some chances in the opening 40 minutes, but Seymour's defense and keeper Jessica Hougland were able to hold them off.
Seymour had two nice shots in the first half — one came off a Nicole Rebber free kick, and the other off a nice run by Rachel Lenart where she beat two FC defenders to get herself a shot on goal.
In the second half, it was the Highlanders who got on the board first. They were on a counter attack, and Taylor Moore sent a cross over the middle that found the foot of Torri Troutman with 31:04 to play.
With 30 minutes to try to keep its season alive, Seymour finally found a chance with 2:15 to play when they won themselves a corner kick.
Rebber took the corner, put it perfectly into the middle of the box and Kate Connell headed it in the net to even the score.
"It's really been the MO of our team. We've had so many corner kicks go right there, and we've never got a head on them," Musser said. "Nicole should probably have 30 assists this year. No time like the end of the year to finally put a face on it. I told them, 'just get something on this ball.' That was a senior putting a nose on the ball and putting it home for us."
Then the two teams went to overtime. There was no golden goal, so two 7-minute periods were going to be played no matter how many goals either team had.
In the first OT period, Floyd Central sent a ball toward the top of the box. Alessandra Dominquez Javier was racing toward the ball, fending off a Highlander striker while Hougland rushed off her line to try to get to it as well.
The ball took a tough bounce past Hougland, who had 11 saves on the night, and into the net. The goal was credited to FC's Kendyl Rumple.
"Late communication. Ally was tracking back hard, and I think she probably could've stepped in front and as Jess was coming out, maybe, maybe not she could've got there," Musser said. "It's one of those last second plays. You can't fault either of the two for trying to play hard and trying to get after that ball. It was just an unfortunate