Glee: What is it?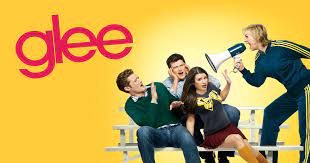 Through the 2010´s, many different shows came alive. Whether those being talk shows, reality shows, comedy shows, or anything of the sort, they were all liked by many. One of the most popular shows, was a high school, teenage, musical drama by the name of Glee.
Glee really emphasizes high school relationships and how wild they can be at times. From heartbreaking breakups, all the way to being wrongly in love with a teacher. Glee shows it all. Each episode features many songs, by bands, solo artists, and some from the best known plays internationally. However, each and every song performed on the show requires approval from both the artist, and the songwriter. Slash, guitarist of Guns N´ Roses, claimed that Glee was ¨childish and stupid¨ and refused to give rights for any of his hit songs to take part in the show. On the other hand, so many others believed the show was fun, and took a new light to their work. Being as the musical masterpiece it was said to be, Glee went for six seasons, and won 70 different awards for the shows time on the air.
Apart from the music, credit should be given to the actors…and I suppose you could say singers. Casting went on for an incredible 6 months. Director of the show, Ryan Murphy, believed that for this show to be a monster hit, each and every actor had to be a triple threat. Dancing, singing, and acting were all needed in order to reach success for the show. Many viewers of the show would agree, the cast chosen, were certainly the perfect picks. Every song performed on the show is recorded in a studio and then is filmed with a dance choregraphed in about two, four hour sessions. The show features 12 main characters throughout it´s run, each and every one with a very different personality. Furthermore, many faces you may know show up through these six seasons. Some of the most popular names in music, such as, Britney Spears, Neil Patrick Harris, and many others you will have to watch to.  Lea Michele, who played the star of the show, Rachel Berry, got her start to an amazing musical career due to the show. Her voice was recognized by some of the biggest names and she now is the lead in one of the biggest Broadway Musicals, Funny Girl. Way to go Rachel Berry!
The  storyline of this show will pull you in all different directions, if you are looking for a show full of the unexpected, this is the one. As the show goes throughout it´s course, a club, who is highly frowned upon and made fun of by the other students, tries to achieves their performing dreams and make it big in the world. For this club, however, the challenge is not an easy one, as the shows main antagonist, Sue Sylvester, played by Jane Lynch, tries to spoil each and every one of the dreams due to her hatred for the director. The club always seems to find a way around and make it work, always together. If you think this is the only storyline, you would be wrong. Each episode seems to start something new with many of the characters. So many plot twists, but you would have to watch the show to know what those are!
Throughout the seasons, Glee tries to tackle some of the worlds greatest issues, in the 2010´s, and ones that have rolled over into modern time. They take detailed looks into characters who are made fun of for their sexuality, appearance, or even their nationality. Although these are serious topics, as a television show, they always try to a little bit of comedy, to never fully darken the mood. Even with the poke of humor, the show tends to convey a serious message with almost each episode.
If this show full of musical greatness, and high school drama sounds like one for you, you can find it on Hulu, or Disney Plus! Gleeks, this one is for you!