Nothing to Fear: Album Review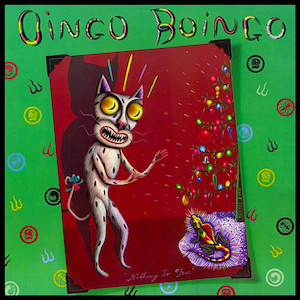 Nothing to Fear, the sophomore album of the band Oingo Boingo, has been one of my favorite albums to listen to recently. The band Oingo Boingo is an American new wave group that was led by Danny Elfman, lead singer and rhythm guitar player. Danny Elfman is also known for being a famous composer, writing the soundtracks for The Nightmare Before Christmas, Edward Scissorhands, and the intro for The Simpsons. 
Nothing to Fear is known for its songs called "Grey Matter", "Private Life", and "Nothing to Fear (But Fear Itself)." These are some of the songs that feature incredible synths, great guitar playing, and fantastic vocals. The song "Private Life" is about a person that has perfected his loneliness, but realizes that he has no important people in his life. The song "Nothing to Fear (But Fear Itself)" is about war propaganda from the perspective of a skeptic person. The song "Grey Matter" is about how the youth should stand up for themselves and be heard. 
There are some other songs in this album like "Insects", "Running on a Treadmill", and "Reptiles and Samurai", but they aren't as notable as the ones I mentioned. I still like these songs, but they feel filler to everything else. In all, I'd give the album an 8 out of 10. There are some incredible songs, but some of them feel like they weren't up to par with the others.